UEFA Champions League
Tanko runs the rule over Schalke, Hoffenheim & Red Star Belgrade in Champions League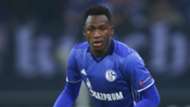 While Ibrahim Tanko believes Baba Rahman's Schalke 04 and Kasim Adam's TSG Hoffenheim have a possibility of progressing, the Ghana assistant coach reckons the Uefa Champions League group stage will be too strong for Serbian giants Red Star Belgrade, who have Ghanaians Richmond Boakye-Yiadom and Rashid Sumaila in their fold.
The four players, together with Inter Milan's Kwadwo Asamoah and Atletico Madrid's Thomas Partey, make up the six men who will be under the spotlight from a Ghanaian perspective when the stage gets underway on Tuesday.
Schalke, housed in Group D, have a tricky opener at home to Portuguese side FC Porto, ahead of games against Turkish side Galatasaray and Russian outfit Lokomotiv Moscow.
"The group also has Porto, Lokomotiv Moscow and Galatasaray, it's a balanced group because any of these four teams can qualify," Tanko, one of only five Ghanaians to have ever won the Champions League, told Goal.
"But I hope that Baba gets more playing time in the competition.
"He's one of the six Ghanaian players in the competition, so for his sake, I pray that Schalke get far, at least beyond the first round."
While Schalke open their campaign on Tuesday, Hoffenheim will begin their quest on Wednesday with a trip to Ukrainian side Shakhtar Donetsk. French side Lyon and  Manchester United are the other two teams of Group F.
Adams, meanwhile, is set to sit out the opener due to injury.
"I think Hoffenheim are the underdogs in this group because this will be their first time," Tanko explained.
"The other three teams have a lot of experience, talk of City, Shakhtar – who are always in the competition – and Lyon.
"Hoffenheim may be the underdogs but in football, a lot of surprises can happen. Hoffenheim have a good team.
"If they can perform like the way they did in Germany last year, I think they're going to cause a lot of problems for these three teams there."
Boakye and Sumaila appear to have a tall order ahead, with their Belgrade side pitted against Napoli, Liverpool and Paris Saint-Germain.
"It's going to be very difficult for them because of Liverpool, PSG and Napoli," Tanko said.
"Honestly, I don't see them qualifying to the next round, but in football anything can happen. So let's wait and see."