World Cup
Switzerland vs Costa Rica: Live blog, text commentary, line-ups, stream & TV channel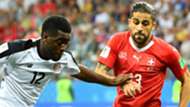 Switzerland can be happy after securing qualification from Group E in second position, behind Brazil by two points. The Swiss will have a meeting with Sweden in the first knockout stage, as Janne Andersson's side topped Group F, while Costa Rica head home after finishing last in the group with a single point. Vladimir Petkovic will be forced to change his squad for their next match, however, as Fabian Schar and Stephan Lichtsteiner picked up bookings which will suspend them for their first knockout match.
What a breathless end to the match as Yann Sommer's own goal after a Bryan Ruiz penalty hit the woodwork equalised for Costa Rica in the 93rd minute after Josip Drmic had retaken the lead for Switzerland two minutes from time. It was a brilliant match played by Los Ticos who fought valiantly until the very end and gave their fans two goals to cheer about despite having their fate sealed before the match. 
FULL TIME:  Switzerland 2-2 Costa Rica. A hectic last few minutes leaves each team taking a point each. VAR involved again. Switzerland progress alongside Brazil but Costa Rica can hold their heads high with the hearty performances they have put in.
---
90+3 Mins: AN OWN GOAL FROM THE PENALTY MAKES IT 2-2! A slightly odd penalty as the shot from Bryan Ruiz strikes the underside of the crossbar before hitting Yann Sommer's back and nesting into the back of the Switzerland goal! What an incredible final few minutes of this match! It officially goes down as a Yann Sommer own goal, though the keeper knew very little about the rebound as his back was turned.
90+3 Mins: PENALTY TO COSTA RICA! Denis Zakaria is deemed to have pushed Joel Campbell in the penalty area, and Los Ticos do eventually get their penalty! It's Bryan Ruiz to strike it…
90+1 Mins: Two changes for Costa Rica now as Gamboa is replaced by Smith and David Guzman is replaced by Randall Azofeifa i
90 Mins: Kendall Waston is shown a yellow card for dissent after the referee chose to not award a penalty. 
90 Mins: Bryan Ruiz takes a tumble in the penalty area after being sandwiched in between Michael Lang and Rodriguez. The Costa Rica players are up in arms calling for a penalty to be called, but upon checking with VAR, it appears that Ruiz was stood in an offside position when receiving the ball. The referee ultimately decides to award no penalty, instead telling Sommer to restart play from a free-kick.
88 Mins: JOSIP DRMIC MAKES IT 2-1 FOR SWITZERLAND! Dzemaili nutmegs a Costa Rica midfielder and spreads the ball out to the right-hand side for Denis Zakaria. Zakaria looks up and fires in a low cross for Drmic who smashes his first-time effort past Navas and into the goal!
85 Mins: The referee blows play dead during a Costa Rica attack after a dangerous push in the back of Stephan Lichtsteiner by Rodney Wallace. It looks so though the two collided heads as well, but neither of them show signs of damage – and the match will continue from a Sommer free-kick.       
83 Mins: Fabian Schar picks up a yellow card after pulling back Joel Campbell who is constantly threatening the Switzerland defence. That caution means that, as with Lichtsteiner, Schar will miss his side's next game.
81 Mins: Xherdan Shaqiri's match is over as Michael Lang replaces the Stoke City attacker. Shaqiri is another Swiss player who is one booking away from a suspension – so that is good foresight by Petkovic
81 Mins: Rodney Wallace will get a run out in the last 10 minutes as Daniel Colindres – who has had a tremendous game – exits the pitch in Costa Rica's first substitution of the match. 
79 Mins: Campbell does everything but score from the counter! A Switzerland corner is intercepted by Campbell who runs the length of the pitch, evading a number of defenders in the process, and makes his way into the penalty area before being crowded out. Still holding onto it, Campbell exits the box and sends a pass towards Borges who hammers a first-time shot towards goal, but Sommer saves it smartly.
77 Mins: EMBOLO SHOULD HAVE STRUCK IT! Rodriguez feathers a cross into the penalty area where Embolo waits in complete and total isolation. The delivery is good but the winger opts to nod it down for Dzemaili instead of striking it himself – much in the same fashion as Switzerland's goal. Costa Rica defenders recover however and the follow-up effort is charged down and blocked.
75 Mins: Denis Zakaria picks up a yellow card after tugging back Cristian Gamboa who was entering the Swiss half of the pitch at lightening pace on a counter-attack.  
74 Mins: Bryan Oviedo is called for a foul on Shaqiri – not the first time the full-back has been called for an infringement in this match. Vladimir Petkovic is furious on the sideline as the referee refuses to pull out his cards – a fact Shaqiri cannot believe.
STAT: Costa Rica are winless in their last five World Cup matches (W0 D3 L2), failing to score in four of those.
70 Mins: The corner-kick runs all the way through the penalty area as the set-piece flies over the mess of bodies in the centre and just over Celso Borges. Yann Sommer flaps at the delivery but luckily for him, no Costa Rica player was in a position to attack the relatively good delivery.
69 Mins: Mario Gavranovic's match is over as Vladimir Petkovic elects to replace him with Josip Drmic. Gavranovic has had a very underwhelming day – contributing very little in attack.
68 Mins: Oviedo teases a ball into the box from the left looking for Joel Campbell but Fabian Schar is there to head it out of danger and away for a Costa Rica corner-kick.
66 Mins: Bryan Ruiz retains possession after riding a number of challenges from opposing defenders but sends his final ball too far for Cristian Gamboa to latch on to and Switzerland escape the danger with a throw-in deep in their own half.  
64 Mins: Celso Borges hits a speculative volley after winning the possession following a Switzerland throw-in. With the ball bouncing and the midfielder closer to his half than the goal, he confidently hammers his effort towards goal, missing the net on the far side by some distance.
62 Mins: Petkovic, even after conceding the equaliser is no doubt keeping one eye on the next fixture, as Valon Behrami's removal is surely a result of the midfielder being one caution away from a suspension. With Stephan Lichtsteiner already unavailable for their first knockout fixture, the manager will surely take necessary precautions to ensure he doesn't suffer further casualties.
60 Mins: Valon Behrami is being removed in Switzerland's first substitution of the match. On in his place is Denis Zakaria. 
STAT: Switzerland and Costa Rica are meeting for the third time and the first time at a major tournament – both nations have recorded one win each.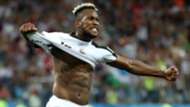 56 Mins: COSTA RICA HAVE THEIR GOAL AND IT'S 1-1! The Costa Rica fans and players are in ecstasy as Kendall Waston nods in the equaliser from a corner-kick after Manuel Akanji failed to mark his man properly. The defender who did not start the previous game has made amends for his earlier miss with a brilliant header!
55 Mins: Costa Rica number nine nods it down for Oviedo who attempts an audacious scissor-kick which balloons hopelessly high of Sommer's goal.
53 Mins: Shaqiri shows his class with a brilliant ball knocked through two Costa Rica defenders for Breel Embolo who pounces on it in the penalty area. The young winger turns and fires a shot from a narrow angle which Keylor Navas gets his hands. The Real Madrid goalkeeper also does well to keep the ball in play, saving his side from having to defend a corner.
51 Mins: Colindres sweeps a cross into the penalty area searching for Campbell but the ball stays in the air for too long and goes out for a goal-kick before Bryan Oviedo could meet it on the right flank.
49 Mins: Rodriguez hammers a volleyed effort towards goal from a central position just outside the penalty area. The left-back gets plenty of dip and swerve on the effort but he guides it high and wide of Keylor Navas.
47 Mins: Bryan Oviedo is given a talking to by the referee after fouling Shaqiri on the right wing. It's Shaqiri himself who swings in the free-kick, but the delivery is low and unable to beat the first Costa Rica defender who nods it away.
46 Mins: Costa Rica get their last 45 minutes of World Cup 2018 underway from the kick-off, down by a single goal.  
---
Costa Rica have not played like a side who are secure in their fate of an early exit. They are pressing Switzerland and causing a number of turnovers in midfield. Any time they foil an opposition attack, they are very quick to move forward and cause disarray on the counter-attack. Though Petkovic's side look a certainty to get the result from this position, it would not be shocking to see Bryan Ruiz and company make life difficult for Yann Sommer in the second period.
Switzerland go into the half with a 1-0 lead over Costa Rica after a Blerim Dzemaili thunderbolt 31 minutes into the match. It could be so much different for Los Ticos had Daniel Colindres' curled effort bounced in after he struck the crossbar from considerable distance. Perhaps an early Costa Rica goal was necessary for the match, as Switzerland have looked very comfortable to keep the ball in defence, passing it between Fabian Schar and Manuel Akanji. With a draw good enough for Petkovic's side to advance – it seems apparent that that is their aim, much to the dismay of the fans in the Nizhny Novgorod Stadium who are making their disdain heard. 
HALF TIME: Switzerland 1-0 Costa Rica
---
44 Mins: Switzerland look likely to take this lead into half time, which should please manager Vladimir Petkovic. Though his side have not been entertaining or lively today, they are doing what they came to do - surely the mark of a good side. 
42 Mins: Colindres sends the ball across the penalty area for Borges after Campbell initiates a counter-attack, but the pass is slightly too long for the tired central midfielder and Borges is unable to take the opportunity as it rolls harmlessly behind for a Sommer goal-kick.  
40 Mins: That earlier booking for Stephan Lichtsteiner is a costly one, as he has accumulated too many cards and will be unavailable to feature in Switzerland's first knockout match.
38 Mins: The free-kick is swung in beautifully by David Guzman towards the back post for Waston who arrives sliding in a fraction of a second too late, as the ball just goes out for a goal-kick before the centre-back could get there.
37 Mins: Daniel Colindres wins a free-kick in midfield after a tackle from Valon Behrami – and captain Stephan Lichtsteiner is booked for dissent as the right-back appears very unhappy with the decision.
35 Mins: Lichtsteiner puts the ball out of play as Xherdan Shaqiri has stayed down after a challenge from Kendall Waston in an off-the-ball incident. The creative player finally gets to his feet, but he is limping noticeably and grabbing his left hamstring. There was no malice from Waston however, and the referee decides not to take action against the defender.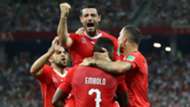 33 Mins: Against the run of play it has to be said, Switzerland have somehow managed to take the lead just after the half-hour mark. They have not looked convincing, but after riding their luck early – they are now in a commanding position to qualify from Group E.
30 Mins: GOAL!  Blerim Demaili hammers it into the back of the net! A cross came in from the right from Shaqiri, it floated over to the back post where Embolo headed the ball down into the path of Dzemaili who powers it past Keylor Navas. 1-0 to Switzerland
29 Mins: Joel Campbell is given Costa Rica's second yellow of the match after elbowing Manuel Akanji while running through midfield. The striker is protesting his innocents, but the referee has already made up his mind
28 Mins: Rodriguez sends a powerfully hit cross-field ball in search of Shaqiri at the edge of the penalty area but Bryan Oviedo is there to do his defensive duties and the ball is cleared immediately.  
26 Mins: Shaqiri takes a free-kick from the left-hand side and whips it onto the penalty spot where Navas is waiting to punch the ball away. Even from set-pieces, Switzerland seem to be unable to link up effectively.
24 Mins: The fans at the Nizhny Novgorod Stadium are making their displeasure heard as Switzerland turn towards Sommer every time they regain possession in midfield. It seems that they are more than happy to accept a draw from the outset – not a sentiment that is shared by Costa Rica who look very bright in attack.
22 Mins: The Swiss give it away in midfield again but the Costa Rica attack fizzles out after Colindres' low-driven cross is easily collected by Sommer.
21 Mins: The Switzerland side seem a bit devoid of ideas at the moment, with every attack being held up in the defence for what seems like an eternity. Despite having rapid and creative players, Vladimir Petkovic's side can be very ponderous at times.
19 Mins: Shaqiri lofts a high, speculative ball into the penalty area for Gavranovic but Keylor Navas jumps highest to claim the ball quite easily. 
17 Mins: GAVRANOVIC BENDS IT AROUND THE OUTSIDE OF THE POST! Shaqiri's blistering run through midfield ends as the diminutive player lays off the ball for Blerim Dzemaili, who loses possession on the edge of the box. Mario Gavranovic spots the opportunity and bends a ball toward the far post, but it just misses the target. 
15 Mins: Play is stopped as Cristian Gamboa looks in a world of pain after getting clattered by an airborne Keylor Navas who comes out to punch away a Stephan Lichtsteiner cross. The midfielder looks shaken up but should be alright to continue. 
13 Mins: Ricardo Rodriguez resumes play from a throw-in but takes a suspiciously long time – perhaps to settle his side down after Costa Rica's latest onslaught. A cross from Shaqiri comes in for Gavranovic, but Giancarlo Gonzalez meets it with aplomb.
11 Mins: Cristian Gamboa is shown the first yellow card of the match for a sliding challenge in midfield on Breel Embolo which caught none of the ball and all of the man.
10 Mins: COLINDRES HITS THE WOODWORK AND THE BALL BOUNCES OUT! A terrible miscommunication in midfield by Switzerland gifts the ball to Daniel Colindres who gets away from Shaqiri and curls an absolute beauty towards Sommer's far post, but the ball cannons off of the underside of the crossbar and out – with the ball never crossing the line. Costa Rica have started the match on absolute fire!
8 Mins: DANIEL COLINDRES FIRES JUST OVER! The attacking-midfielder picks up the ball just outside the penalty area and glides past the run of Bryan Ruiz before hitting a powerful strike towards Sommer, who gets some respite as the ball goes narrowly over the crossbar. 
7 Mins: Costa Rica are laying siege to the Swiss goal at the moment. First, a Campbell shot is just about parried away by Yann Sommer, then a Celso Borges close-range header is blocked well by the diving Switzerland goalkeeper. It has been an incredible start from Los Ticos who are certainly not going down without a fight.  
5 Mins: Costa Rica are enjoying their first spell of position and came very close to scoring after Joel Campbell enters the penalty area and looks to send a cross into the path of Bryan Ruiz, but Ricardo Rodriguez gets in the way. Costa Rican shouts for a handball are promptly denied by the referee.
2 Mins:  Breel Embolo wins an early free-kick just outside the penalty area after being taken down. Xherdan Shaqiri stands over it looking to bend it in... His low ball evades Gavranovic and goes for a goal kick.
1 Min:  KICK OFF! Switzerland get the game underway.
---
Stephan Lichtsteiner and Bryan Ruiz lead their respective teams out of the tunnel and onto the pitch to observe the national anthems with kick-off to follow shortly.
Oscar Ramirez makes three changes in Costa Rica's farewell match in the 2018 World Cup but maintains his 3-4-2-1 shape. Oscar Duarte is replaced in defence by Kendall Waston, while Daniel Colindres and Joel Campbell enter the starting XI in forward positions, dropping Johan Venegas and Marco Urena to the bench.
Vladimir Petkovic goes into today's match making two changes from the side that stole victory at the last moment against Serbia – with both alterations coming in attack. Breel Embolo takes the place of Steven Zuber as a support-striker on the left, while Mario Gavranovic replaces Haris Seferovic at striker. Despite the switches, the tactical formation remains the usual 4-2-3-1.
Switzerland have gone behind in both of the matches so far at the World Cup, and will need to get off to a good start against a Costa Rica side eager to bow out of the tournament on a positive note. The Swiss received positive news earlier this week as Xherdan Shaqiri and Granit Xhaka escaped FIFA bans and will be available to play today.
25 Mins to KO: After having tremendous success in Brazil in 2014 where Los Ticos reached the quarter-finals, their early exit from Russia is severely underwhelming. To Oscar Ramirez's credit, both of Brazil's goals came in injury time, and Serbia's lone winner was a bit of magic from an Aleksandar Kolarov free-kick. Had luck been slightly more kind, they may have been taking the pitch today with a focus on the knockouts.
Nizhny Novgorod's eponymously named stadium plays host today to the final match of Costa Rica's fifth  World Cup campaign – having made their debut in 1990. The CONCACAF nation's 2-0 defeat to Brazil in their second match secured their elimination after the round-robin stage. 
40 Mins to KO: Hello and welcome to live text commentary of the Group E match between Switzerland and Costa Rica at the 2018 World Cup in Russia.
| | |
| --- | --- |
| Game | Switzerland vs Costa Rica |
| Date | Wednesday, June 27 |
| Time | 7pm BST / 2pm ET |
| Stream (US only) | fubo TV (7-day free trial)C |
---
Confirmed line-ups
---
Vladimir Petkovic has fielded a few changes from the late win against Serbia notably Breel Embolo starts as Haris Seferovic drops to the bench.
Confirmed Switzerland XI: Yann Sommer; Stephan Lichtsteiner, Fabian Schar, Manuel Akanji, Ricardo Rodriguez; Valon Behrami, Granit Xhaka; Xherdan Shaqiri, Blerim Dzemaili, Breel Embolo; Mario Gavranovic.
Subs: Steven Zuber, Haris Seferovic, Josip Drmic, Yvon Mvogo, Roman Burki, Francois Moubandje, Nico Elvedi, Michael Lang, Johan Djourou, Remo Freuler, Gelson Fernandes, Denis Zakaria.
Costa Rica have already been eliminated from the World Cup after a disappointing showing compared to their 2014 campaign. Bryan Ruiz and Joel Campell spearhead the attack as they look to at least get on the scoresheet in their final game.
Confirmed Costa Rica XI:  Keylor Navas; Johnny Acosta, Giancarlo Gonzalez, Kendall Waston; Cristian Gamboa, Celso Borges, David Guzman, Bryan Oviedo; Daniel Colindres, Bryan Ruiz; Joel Campbell.
Subs: Johan Venegas, Oscar Duarte, Christian Bolanos, Francisco Calvo, Yeltsin Tejeda, Patrick Pemberton, Leonel Moreira, Ian Smith, Rodney Wallace, Kenner Gutierrez, Randall Azofeifa, Solera, Marco Urena.
---
TV Channel, Live Stream & How To Watch
---
In the United States (US), the game can be watched live and on-demand with fuboTV (7-day free trial).
New users can sign up for a free seven-day trial of the live sports streaming service, which can be accessed via iOS, Android, Chromecast, Amazon Fire TV, Roku and Apple TV as well as on a web browser.
In the United Kingdom (UK), the game can be watched live on TV on ITV 4 or streamed live online using the ITV Player.
| UK TV channel | Online stream |
| --- | --- |
| ITV 4 | ITV Hub |