PSL
SuperSport United boss survived attempted hijacking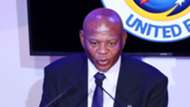 SuperSport United chairman Khulu Sibiya was reportedly a victim of a recent attempted hijacking in Johannesburg.
According to reports in the Sunday World, Sibiya was returning home after driving to a nearby garage to buy snacks for a handyman who was fixing his DSTV, but on his return he was met by two thugs who wanted to hijack his Mercedes Benz.
However, the Matsatsantsa boss recalls how in the face of danger he remained defiant despite the perpetrators pointing their firearms at him.
"I told them that if they are so desperate to get something they have not worked hard for, then they must shoot me because I was not going to open the door," Sibiya told Sunday World of the ordeal.
"The criminals stood outside my car shouting at me to get out. You should have seen the anger on their faces when I refused," Sibiya added.
Nonetheless, after their failed hijacking attempt, Sibya stated that the perps noticed that his other car which was parked in the driveway had its windows rolled down, and subsequently proceeded to it where they made away with an IPhone worth R16 000 and other smaller items.
Furthermore, a case has been opened at the Bramley Police Station where an investigation is ongoing, but reports suggests that an arrest is yet to be made.