AIFF Super Cup
Super Cup 2018: Luis Norton - We will continue to play good brand of football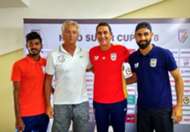 Indian Super League (ISL) side Mumbai City FC take on I-League's Indian Arrows in the third qualifier of the inaugural Super Cup at the Kalinga Stadium, Bhubaneswar.
Mumbai, who finished seventh in ISL, will be hoping to register a win against the bottom placed side of the I-League this season and confirm their place in the final round. The winner of this match would face East Bengal in the next round.
Ahead of their clash against the India colts, Mumbai City FC coach Alexandre Guimaraes praised the All India Football Federation's (AIFF) efforts to develop the Indian youngsters through their Indian Arrows project.
He said, ''This is a very good idea of the federation to give them a possibility to compete with professional teams. This is not very usual in other places where I have been (Asia or South America) before. This process can be continued and it will help them gather more experience for future. I watched some games and we know how hungry they're for success."
Mumbai goalkeeper and India international Amrinder Singh, who recently extended his stay at the club, also lauded the colts and suggested that they have to be cautious as the youngsters have the potential to create an upset.
Amrinder said, "All the youngsters have experience of playing in a FIFA Under-17 World Cup which is huge for any footballer. They're agile, they are learning with each passing day and we're aware of their potential. They can surprise us on a given day."
Arrows boss Luis Norton de Matos mentioned that they will continue to exhibit quality football in the Super Cup as well. "We are in a process and we'll continue to show that we are able to showcase a good brand of football no matter who are we facing," said the Portuguese.
He further suggested that he believes in his players' abilities. Matos continued, "We had four wins in the I-League despite being the youngest squad in the league. Moreover, the youngest highest scorer Abhijit Sarkar is in my team. My boys were chosen for the Hero of the Match 10 times. Naorem (Nongdanba) scored arguably the best goal in the I-League and mostly, the team proved their mettle against the physically superior sides."