African All Stars
Sundowns attacker Anthony Laffor won't follow Liberia's president-elect George Weah into politics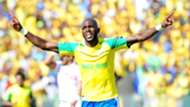 Mamelodi Sundowns attacking  Anthony Laffor will not follow George Weah in the world of politics, but he is thrilled that the former AC Milan star will soon assume the role of president in Liberia.
"I brought that up the last time we spoke and we laughed about it. I am happy that he won the elections. I was a part of his campaign because I believe he will bring the change Liberia needs," Laffor told IOL.
Laffor's number 28 jersey which he wore in their march to the Caf Champions League title in 2016 hangs in the presidential office that Weah will step into after his inauguration on January 22.
The former Jomo Cosmos and SuperSport United man handed the jersey to outgoing president Ellen Johnson Sirleaf on January 12, 2016 along with his winner's medal.
"It means a lot for me to have my jersey hang in the presidential office. Being the first Liberian to win the Champions League is something I will always cherish and it's an achievement that my children and their children will be proud of," Laffor said.
The 32-year-old has already planned for life after football, but he is not keen to take the route Weah, who remains Africa's only World Player of the Year winner took.
"That life isn't for me, but if I retire tomorrow I can continue with the lifestyle I currently live by, because I have planned for that. I have a number of businesses in Liberia in various sectors that my father manages for me. I am sorted," Laffor added.