United States
Stock up, stock down for USWNT as World Cup qualifying looms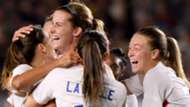 It's nearly time. After more than two years of friendlies and tournaments with varying degrees of significance following the 2016 Olympics, the U.S. women's national team is ready to embark on its defense of the World Cup.
The U.S. kicks off the Concacaf Women's Championship in two weeks against Mexico. It then faces Panama and Trinidad & Tobago to round out group play, with qualification for France 2019 expected to be a formality (yes, some said that about the men last year too, but a USWNT failure would be significantly more shocking). 
On Wednesday, manager Jill Ellis named her 20-player squad for the tournament, giving a clear idea of which squad members she will be counting on heading towards the team's defense of its 2015 World Cup title. 
Ahead of the tournament, Goal takes a look at some players who are seeing their stock rise or fall. 
---
Stock up
---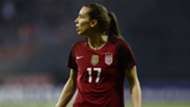 Hailie Mace: If there was one surprise on the U.S. roster for World Cup qualifying it was undoubtedly Mace, a defender from UCLA who has just two caps to her name. The 21-year-old likely wouldn't have been on the roster were it not for an injury to Tierna Davidson, but she still beat out more experienced options to earn a spot on the 20-player squad. 
Mace began her collegiate career as a defender, but has converted to a forward for the Bruins. She has taken to the position like a fish to water, scoring 15 times last season, but has featured as a defender for the national team. She only received her first USWNT call-up in February, but Ellis has made it clear that Mace has a significant opportunity to be on the final roster for next summer's World Cup.  
Rose Lavelle: No player on Ellis' 20-player roster outside of Mace has fewer caps than Lavelle, but unlike the UCLA star, the 23-year-old's inclusion was in little doubt. Lavelle's status as a near-lock for the U.S. roster is a testament to how strong her comeback has been from a debilitating hamstring injury that kept her out nearly a year. Lavelle burst onto the scene in early 2017, but an injury originally suffered in June 2017 kept her sidelined until May of this year. 
When she returned, though, Lavelle looked every bit the star in the making she appeared to be when she made her USWNT debut some 14 months earlier. After strong performances in the Tournament of Nations this summer, Lavelle impressed again in a pair of friendlies against Chile in August and September. Even in a crowded midfield pool, Lavelle's eye for space between the lines and aggressive attacking instincts means she's set to play a big role moving forward. 
Tobin Heath: With fierce competition for starting roles in the U.S. attack, every player must be continuously impressing Ellis in order to lock down a position in her starting lineup. Over the past month, Heath has been doing just that.
Heath was the USWNT's best player in the team's pair of friendly wins over Chile, tallying a goal and three assists over the two games while demonstrating her undeniable prowess in one-on-one situations. She again stood out for the Portland Thorns at the weekend, scoring a goal and having another incorrectly chalked off for offside in the Thorns' win over the Seattle Reign in the NWSL semifinal. After missing much of 2017 with injuries, Heath once again looks like one of the best players at Ellis' disposal, and should be a lock to start if she carries on with the form she's displaying.
---
Stock down
---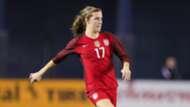 McCall Zerboni: In many ways, the broken elbow Zerboni suffered against Chile earlier this month could not have been more poorly timed. The 31-year-old is a key member of the North Carolina Courage, and the injury knocked her out for the rest of the season right as her top-ranked squad was preparing to begin the playoffs.​
Zerboni has only recently begun to break through with the national team, becoming the oldest player to earn her first USWNT cap when she made her debut in 2017. The midfielder has steadily grown in stature with the team over 2018, becoming a consistent call-up and earning seven caps, along with two starts. Zerboni has plenty of time to recover before the World Cup next summer, but her injury is a momentum-halter and it will be worth watching if other options at Zerboni's position distinguish themselves over the next few months.  ​
Tierna Davidson: Speaking of momentum-halting injuries, the USWNT's most promising young defender was the victim of a nasty challenge on Sept. 9 when representing Stanford against North Carolina. On Tuesday U.S. Soccer revealed the 20-year-old will be out 10-12 weeks with a broken ankle, forcing her out until January camp at least. 
On the national team level Davidson has broken through in 2018, and has been locked in a battle with Abby Dahlkemper to be the team's starter at center back next to Becky Sauerbrunn. Should Dahlkemper and Sauerbrunn strike up an effective partnership with Davidson out, it could prove difficult for the youngster to regain momentum in 2019.
Adrianna Franch: The goalkeeper is on this side of the list through no fault of her own. Franch had to be at her best on Saturday, making a plethora of saves to lead Portland to a 2-1 win over Seattle in the NWSL semifinal. The 27-year-old has been the USA's third goalkeeper for some time, though many have questioned whether she deserves to be given more of a chance to compete with Ashlyn Harris for the backup job, or even with starter Alyssa Naeher.
Unfortunately for Franch, Ellis seems committed to Naeher as the starter and Harris as her backup. If Franch hasn't convinced her national team manager yet, it's likely she'll be looking at a third goalkeeper role in France next summer at best. It's a tough pill to swallow for a player in such good form, but Franch will have to be content with leading Portland into its second consecutive NWSL title game on Saturday.