Steven Pienaar
Steven Pienaar: 'My favourite moment? Scoring the equalizer against Manchester United in 2012'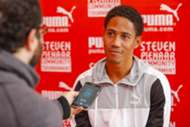 After pulling down the curtain on an illustrious 18-year-long career, former Bafana Bafana midfielder Steven Pienaar has shared some of his best moments.
Born 35 years ago in Westbury, Pienaar launched his professional football career with Ajax Cape Town in 1999 as a 19-year-old, before plying trade in Europe for a number of top sides.
Having had two stints at Goodison Park with Everton, Pienaar revealed that his goal against Manchester United in the English Premier League remains his best moment.
The former Bafana skipper said his 85th-minute equaliser at Old Trafford in the dramatic 4-4 draw which prevented United from retaining the EPL crown in 2012, remains his career highlight.
"My favourite moment? Obviously, signing for Everton and scoring the equaliser against Man United to deny them the title - that was something special for me," Pienaar told Sky Sports.
Pienaar revealed that his body told him it was time to hand up his boots, saying that he couldn't wake up anymore to go to training. 
"My body was just a bit tired, I couldn't get up anymore," he revealed his decision to retire," added Pienaar.
"My family has been supportive of the decision I've made and I just thought I have to be honest to myself, my body and my family. It's a bit weird (no longer being a footballer). I'm just getting used to it, but it's been playing on my mind for a while. So, I'm happy. I can spend time with the kids, with my mom, with my wife and the family. I'm really happy," added the midfield legend.
Pienaar said he felt tired and announced his plans beyond retirement, saying his family came first.
He also revealed that he is doing some classes for media work as he harbours ambitions of working as a television pundit.
"The only thing I know is football. I've started to do classes for the media work I'd like to get involved in," revealed the 35-year-old.
"So, I'm hoping to do some TV work but I also want to help the kids in South Africa and help motivate them and let them know there is someone they can look up to,"  he announced. 

"As a footballer, I want to stay close to the game and you can't run away from that," he continued. 
The Transnet School of Excellence graduate also picked out Everton boss David Moyes as his best manager, but also shared his relations with former Holland manager, Ronald Koeman.
"He (Moyes) was great for me. He was the manager that signed me and brought me to Everton in the first place. So, he is up there as one of the best managers I have ever played for," he said of his managers.
"I played for a lot of managers but he (Moyes) showed a lot of belief in me and it was the way he went about things. When I was a young guy he (Koeman) gave me my debut in Europe and so I am quite close to him. I wanted to stay and play for him at Everton but the club were going in a new direction. The seasons before I'd had a lot of injuries and so I understood," recalled the ex-KNVB Cup champion with Ajax Amsterdam.
Despite a fruitful career in Europe, Pienaar came back in 2017 and joined Bidvest Wits, but shocked many when he parted ways with the reigning league champions in less than six months.
"My favourite team-mate at Everton was Jags (Phil Jagielka)," continued the Telkom Knockout Cup winner with Wits. "I used to moan at him all the time on the pitch and ask him: 'Jags, why do you always hit the ball long instead of just passing it?'.
"I used to say it to him in training as well but he stood up on his toes quickly and he always played really well when he was upset. So, I used to wind him up all the time," concluded Pienaar.