England
Southgate a top boss but four-year England deal is too long - Crouch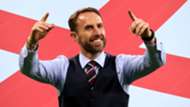 Gareth Southgate has penned a new contract as England manager, but Peter Crouch considers a four-year deal to be "too long".
After guiding the Three Lions to the semi-finals of the 2018 World Cup, the man filling a notoriously difficult post has seen his efforts rewarded with fresh terms.
An extended agreement is set to take Southgate through to Qatar 2022, when his side will once again be expected to mount a serious challenge for global supremacy.
There are, however, UEFA Nations League and European Championship campaigns to be taken in before then and anything could happen over the course of the next two years.
Crouch believes working between tournaments is the best approach in international football, although the former England striker concedes that Southgate deserves a chance to see a long-term project through to the end.
He told the Daily Mail: "If I was in charge at the FA and had to appoint a new manager, I always thought the last thing I'd do is hand out a four-year contract.
"In the modern game — particularly international football — four years is too long. Most nations now operate from tournament to tournament, awarding short-term deals to make sure there is an escape route if something goes wrong or results are poor.
"Despite that, if it had been up to me to renew Gareth Southgate's deal, I'd have done exactly what FA chief executive Martin Glenn did on Thursday. If ever a man deserved to buck the trend for short-termism, it is Southgate. He deserved four years.
"Here is a contract that gives his grand plans the best possible chance of coming to fruition."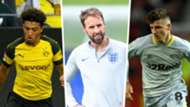 Southgate has already started to plan for the future, with the likes of Jadon Sancho, James Maddison and Mason Mount having been included in his latest squad.
Crouch supports those calls, with exciting young talent currently catching the eye in places such as Borussia Dortmund, Derby and Leicester.
"I genuinely believe this is the start of something thrilling for England and the announcement of Southgate's squad on Thursday confirmed as much," added a man who netted 22 goals in 42 appearances for his country.
"The inclusion of Borussia Dortmund's Jadon Sancho put my place in football into perspective — he was five months old when I made my debut for QPR in August 2000 — but he is just one of several young talents.
"Sancho is clearly thriving at Dortmund and I have heard so many good reports about Mason Mount that I cannot wait to watch him play.
"James Maddison is another who deserves his chance. I have spoken about him a few times on these pages and apart from being skilful, he is also fearless.
"Some people were obviously surprised when Southgate was put in charge of the England team two years ago but, honestly, he has not made a decision yet that I have disagreed with. It should be enjoyable following England and what happened in Russia is the perfect starting point."