Transfers
Silva: United were keen but City tabled the only offer from Manchester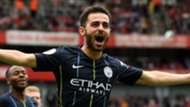 Bernardo Silva has admitted to being aware of interest from Manchester United last summer, as he was expected to head for Old Trafford, but claims City put the only offer to him.
Once the exit doors were opened at Monaco in 2017, the Portugal international was heavily linked with a switch to join fellow countryman Jose Mourinho in England.
Such a switch was still being discussed when Silva boarded a plane for Manchester, with fellow passengers questioning him on a move to the Red Devils.
The 24-year-old playmaker humoured those believing he was destined for United, but he is delighted to have ended up as a £43 million ($56m) addition at City.
Silva told The Sun on an eventful transfer window which saw him shrouded in mystery until a big-money deal was announced: "There was a guy on the plane who thought I was going to Man United. He was a United fan. I didn't tell him he was wrong.
"But, yeah, a lot of people didn't know where I was going.
"I heard about the interest and I've friends at United. One of the physios there was with me at Monaco.
"The manager, of course, is Portuguese and I've met him around.
"Victor Lindelof - we were in the same year in Benfica. Nemanja Matic, I trained with him in Benfica, so I know a few players.
"But if I have to be precise, the only official offer my agent got was the one from City.
"I was really happy with the offer from such a fantastic club and I have to think it was the right decision."
Silva added on the build-up to a high-profile switch, with Ligue 1 title success having placed him firmly in the shop window: "In my last season at Monaco, my agent would not tell me the clubs that were interested in me.
"He wanted me to be fully focused for Monaco. He'd say 'At the end of the season, we will talk'. I knew people were talking about certain clubs.
"Then after the end of the season, four days after the last game, he called me and said City were interested and it was a great opportunity for me."
Silva has been carefully managed by City, with Pep Guardiola handing him 35 Premier League appearances last season but only 15 starts in a title-winning campaign.
He has been freed to make more of an impact in 2018-19 with Kevin De Bruyne having spent time on the sidelines, and has scored three goals so far.
His ability on the ball has drawn inevitable comparisons to superstars such as Barcelona talisman Lionel Messi, but Silva is eager to avoid being dragged into such a debate.
He said: "Of course it's good to be associated with those kind of players. If he's not the best player ever, he's very close.
"Him and Cristiano Ronaldo are on another level and nobody can be compared to them. At my age, Messi had won two or three Ballon d'Ors."