Africa Cup of Nations Qualification
Sierra Leone's Fifa ban leaves Ghana double-header in the balance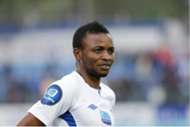 Ghana's 2019 Africa Cup of Nations qualifying double-header against Sierra Leone is all but set to be cancelled after the latter's football association coped a Fifa ban on Friday. 
The news comes six days before the Black Stars host the Leone Stars in Kumasi on October 11 and 10 days before the return fixture in Freetown on October 15.
By the current situation, the matches are not allowed to take place, as stipulated by Fifa's laws. 
"The Bureau of the FIFA Council decided today to suspend the Sierra Leone Football Association (SLFA) with immediate effect due to government interference," the world's football governing body have announced. 
"This decision comes after a recent letter from FIFA to the Minister of Sports of Sierra Leone to express grave concern about the removal of the SLFA President and the SLFA General Secretary and to request that both be allowed to access the SLFA premises without further delay to ensure that the operations of the SLFA, including FIFA-funded projects, are not jeopardised.
"The suspension will be lifted once the SLFA and its recognised leadership (led by SLFA President, Ms Isha Johansen, and SLFA General Secretary, Mr Christopher Kamara) have confirmed to FIFA that the SLFA administration, premises, accounts and communication channels are under their control once again."
Although the implications of the ban were clear in Friday's release, the status of the double-header is currently not known as no official communication has been made on it. 
"Following its suspension, the SLFA has lost all its membership rights as defined in art. 13 of the FIFA Statutes," the release continued. 
"The SLFA's national and affiliated club teams are no longer entitled to take part in international competitions until the suspension is lifted.
"This also means that neither the SLFA nor any of its members or officials may benefit from any development programmes, courses or training from FIFA or CAF. Moreover, and in accordance with art. 16 par. 3 of the FIFA Statutes, other member associations may not entertain sporting contact with the SLFA during its suspension."
Sierra Leone, like each of the other three teams in Group F, have three points to their name after matchday two.