World Cup
Shakes Mashaba shocked to see Bafana Bafana desperate to qualify for the World Cup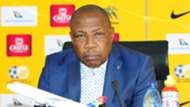 Former Bafana Bafana coach Ephraim Mashaba believes the administrators always make coaches the scapegoat when the going gets tough.
"There are people who have been running our football for more 20 years and they have achieved nothing because they always make coaches the scapegoat," Mashaba told Sowetan.
As it stands, Bafana have to beat Senegal twice to qualify for their first World Cup since 2002 having participated in the 2010 finals as the hosts.
"We need to take a hard look at ourselves and honestly ask ourselves where we are going. It's important that we seriously plan for the future. A nation without a vision will perish," Mashaba said.
Nicknamed Shakes, Mashaba, who left his post in December last year with the side in good stead, is dumbfounded to see how things have turned for the worse where they need to pull off a somewhat miracle.
Bafana take on Senegal on Friday and again on Tuesday, and having managed the side that defeated the Teranga Lions in the nullified clash last November, Mashaba calls on the team to showcase their ability in both matches.
"It's a matter of courage, the players need to have the heart to win these two games. I believe they (Senegal) are beatable but the question is are the players up for it?
"It's going to be very tough because they told us after the last game that they will want to prove that they are on top of us," Mashaba concluded.