MLS
Savarese poised to cap smooth transition to MLS with another title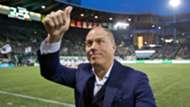 Standing in the middle of the field at Atlanta Silverbacks Park five years ago, Giovanni Savarese couldn't contain the smile he wore from ear to ear. One by one, New York Cosmos players, fans and the owner all made their way to congratulate Savarese for winning the storied club's first championship in more than three decades. 
It mattered little that the triumph came in a small venue that could barely be called a stadium, where a small crowd of around 7,000 gathered to watch an Atlanta team in red and black lose a final to a Savarese-coached team clad in green.
Savarese is back in Atlanta once again, chasing another trophy, only the circumstances are much different this time around. There will be more than 70,000 fans packed inside the multi-billion dollar Mercedes-Benz Stadium to watch Saturday's MLS Cup final, where Savarese's Portland Timbers will try to stop heavily favored Atlanta United in a final that will be broadcast around the world, and seen by far more viewers than the last final Savarese contested in Atlanta.
That Savarese is set to coach in his fifth final in six seasons is a testament to his growing reputation as a manager, but it is his first season with the Timbers that has helped open more eyes to the quality coach Savarese has become. He took over a solid Portland team previously led by long-time coach Caleb Porter and succeeded in putting his own stamp on the squad in his very first season in charge.
"Every situation has its own challenges," Savarese told Goal. "Whether you start fresh, or go to a situation where the club wasn't doing well, or take over a team that was doing well, each scenario brings its own difficulties.
"Just because the team was successful doesn't mean it was on a path I felt was the right path," Savarese said. "There was a lot of work to be done. Players need to trust a coach, and need to know how a coach is, and how a coach works. Trust isn't built overnight."
Savarese's early days with the Timbers weren't easy. A five-game road trip to start the season presented a difficult starting point, and when the Timbers went winless in that stretch, the questions about whether Savarese had been the right choice immediately began to fly.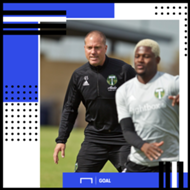 "When you become a coach I think a very important part is to be balanced emotionally and believe in what you do and the work you do," Savarese said. "You need an organization that really believes in you and gives you the trust to continue to go forward."
"I had concerns those first two games, but by the third game I felt like we were turning things around," Savarese said of that early winless skid. "By the third or fourth game I felt like the win would come at any minute."
The wins did eventually come, to the tune of a jaw-dropping 16-match unbeaten streak that quickly established the Timbers as a team to watch in the wide-open Western Conference. Savarese's willingness to make tough lineup decisions, as well as deploy a variety of tactical approaches, helped him put his stamp on the team in a seamless way, without trying to completely change the team he inherited.
"He knew he was coming in with a group that was successful, so he didn't come in talking about trying to revolutionize the Timbers, but he did come in and help us establish an identity that could help us win," Timbers general manager Gavin Wilkinson told Goal.
"It took a coach with the self confidence, someone very secure, to come in and not try to change things overnight. He took his time establishing putting his own stamp on the team and you can see it now."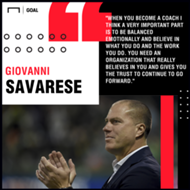 Savarese's path to becoming a title-winning coach began during a long playing career that saw him travel the world playing in leagues from his native Venezuela to the United States, England and Italy. His interest in coaching, and eventually becoming a coach, began well before he retired as a player. After his playing days were over, Savarese continued to work in soccer, developing his coaching resume, and also gaining experiences that exposed him to the game at the highest level.
"I spent time working with Charlie Stilitano, spending time around big European clubs in America on tour," Savarese said. "When teams would come to the United States, being with Barcelona, with Porto and Fiorentina, being able to be with them the whole tour, seeing how their coaches work, how their organizations work, being in Barcelona for a week, with Milan and Inter and seeing how they work. It all taught me so much. It helped me learn so much, and I've never stopped learning."
Savarese's journey wasn't without its disappointments and setbacks. Perhaps the biggest one came a dozen years ago, when he was working as the well-respected director of the New York Red Bulls youth academy. When head coach Bruce Arena and technical director Jeff Agoos took over the Red Bulls in 2006 they decided there needed to be changes made throughout the organization. 
Savarese was eventually forced out of his role as academy director, and while his departure was painted publicly as a mutual decision, sources tell Goal Savarese was forced out. It was a crushing blow for Savarese, who was a fan favorite with the team as a player almost a decade earlier.
"The split at the time wasn't a comfortable moment due to the fact that I was very passionate about what I was doing, and I was doing it for a club that I played for," Savarese said. "I gave everything I had, and wanted to continue to give everything, so to split from the organization was difficult because of the passion I had for the job, and the club."
It took Savarese some time to get over that disappointment, but he eventually re-established roots with the club known formerly as the MetroStars. He insists he never held a grudge over how things ended with the Red Bulls, even though it left him outside the professional game for several years before he joined the Cosmos. 
"I wouldn't say that that sparked something in me that I wanted to prove anything because I'm not that way," Savarese said. "I'm just a competitor, I compete. I don't need any extra motivation to compete. I believe in what I do because I do it with passion. I know my strengths and weaknesses. It's not about proving people wrong."
Savarese stayed busy after leaving the Red Bulls, working in television while continuing to coach on the youth level. He eventually took over the Cosmos youth ranks before being hired as head coach and leading the club's renaissance. His run of NASL titles sparked interest from several MLS teams, but a steep buyout clause in his contract scared teams away, as did the uncertainty over whether his NASL success could translate to MLS.
Nobody is asking those questions now after Savarese's successful first season, which he feels has benefited more from the tough moments than the long unbeaten run earlier in the season. In fact, he points to Portland's four-match losing streak in August as a needed period of adversity, one that helped him figure things out that eventually helped the Timbers in their run to the 2018 MLS Cup final.
"I think losing sometimes teaches more than winning, because sometimes when you win you let some things go because you're getting results," Savarese said. "When the results aren't the ones you want you become critical.
"In that time, I learned more about my team. I learned how the team dealt with adversity. We needed to learn that we win together and lose together."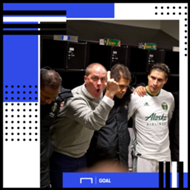 It has been mostly winning in the months since that losing slide, capped by Portland's improbable run through the Western Conference playoffs, which saw them eliminate three higher seeds on the way to Saturday's final. Now Savarese will lead his Timbers against Atlanta United in front of a sold-out Mercedes-Benz Stadium in an atmosphere sure to be unlike any seen before in MLS, and one that will be a far cry from what Savarese could have imagined when he was coaching in Atlanta five years ago in his first NASL final.
"I wouldn't have imagined that in Atlanta, definitely not five years ago," Savarese told Goal. "To see things change here the way they have, big credit to Atlanta United for creating something so amazing. We're going to enjoy it because we're going to be able to play in front of a beautiful crowd. The team knows how special this opportunity will be."
And so does Savarese, who will need only to think back to that first championship he won in this same city five years ago to remind him how far he has come.