Liga MX
Santos goalkeeper Orozco could be difference between his team or his former team advancing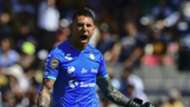 Santos Laguna had two impressive streaks heading into the quarterfinal round of the Liguilla. One, scoring a goal in every match this season, was snapped in the first leg. Keeping the other, not losing at home the entire season, will determine whether the reigning champion's title defense continues or if things come to a disappointing early end.
While scoring is paramount for Santos after Monterrey's 1-0 victory on Wednesday, keeping Rayados' attack from finding the back of the net will also be a key for Santos if the season is going to continue. The bulk of that load will be shouldered by former Monterrey goalkeeper Jonathan Orozco.
Orozco could do nothing about Rogelio Funes Mori's wondergoal in the first leg. The Argentine's touch and bicycle kick was about as perfect as goals can get. The goalkeeper shouted at a few of his defenders after, but it had to be out of routine as much as out of any sort of genuine anger, or in frustration that he'd be the goalkeeper who tens of thousands will see getting beaten when the clip is played over and over on YouTube - and maybe even for the Puskas Award vote next season.
While that shot wasn't his fault and he didn't concede otherwise, it still was an up-and-down match for the 32-year-old. He made five saves but was a bit fortunate not to be beaten earlier in the contest. He had a strong start, making a parry in the fifth minute after being screened on an early shot and coming off his line aggressively to clear a pass over the top in the 23rd minute.
A minute after that intervention, Funes Mori let him off the hook with a scuffed shot. Orozco later fumbled a cross out of play in the 39th minute. Rayados nearly drew blood from the resulting corner kick, but Orozco got down to get a hand on a glancing header that looked to come off his own teammate.
Orozco gives Santos a consistent goalkeeper, something most teams in Liga MX struggle to find and retain. He played with Monterrey from 2005 until 2016, moving to Santos ahead of the 2017 Clausura after making more than 300 appearances for Rayados. His long history with that team hasn't made him any less committed to Santos, with Orozco turning in another strong campaign. 
"You do your job. I always give my maximum effort for my teammates, for the team, for the club we represent, but apart from that it was a match worthy of the Liguilla," he said at a news conference Thursday. "We had clear scoring chances that we couldn't convert."
So, too, did Rayados, and an away goal in the Estadio Corona may be enough for them to slip into the next round. Orozco will need to be back at his best to prevent that from happening.
He's also convinced that second streak, of Santos avoiding defeat this season and losing just once there in league play this calendar year, will continue thanks to the strong support and swaggering style Santos has shown this season.
"We've got a great team that can turn things around on our field, with our fans," he said. "We know it's going to be complicated. Monterrey has a great squad, they showed that in their house, but even so I think that we can come back from 1-0 down. We've got this confidence in ourselves.
"For us, right now the most important thing is to turn the page. We've got 90 more minutes on our home turf and we want to do the best possible to keep advancing."
While Julio Furch, Jonathan Rodriguez and the rest of Los Guerreros' attack need to do their part, Orozco will have plenty to say about if it's his current club or his former employers moving into the next round.