Super League
Sani was never accused of match-fixing, insist Pulau Pinang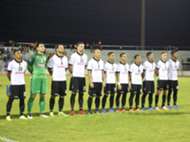 ---
BY        ZULHILMI ZAINAL       Follow on Twitter
---
The Pulau Pinang FA (FAP) has issued a statement clarifying the situation concerning the Panthers goalkeeper Sani Anuar Kamsani.
FAP stated that the custodian had not been summoned by its disciplinary committee on Monday due to rumours of match-fixing.
Instead the 33-year old goalkeeper had been called to explain an argument he reportedly had with head coach, Ashley Westwood after their 6-1 league defeat to Pahang on February 18, insisted the association.
"...the board was simply giving space to Sani to explain the situation, so it could be assessed and rectified by the Disciplinary Committee of FAP. The association has always been transparent in protecting each individuals who are contracted with the association.
"We the Pulau Pinang Football Association insists that there was no issue of 'match-fixing accusation' raised during the Disciplinary Committee which convened on Monday," stated FAP in its press release issued on Wednesday.
The Panthers are currently bottom of the Super League, having lost in all six of their matches so far.