A-League
Wanderers striker remembers crazy derby moments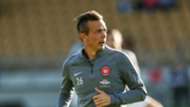 From being pelted with bottles to smashed windows on the team bus, Western Sydney Wanderers striker Ryan Griffiths has experienced it all when it comes to local derbies abroad.
Now back in the A-League, the 35-year-old is excited to experience Sydney's version on Saturday night when the Wanderers will host Sydney FC at ANZ Stadium.
Ahead of the game against the Sky Blues, Griffiths recalled his previous derby experiences during stints playing in Romania and China.
"I've played in the Bucharest derbies and they are very intense. If you lose that you get bottles thrown at you and if you win that you get even more bottles thrown at you from the other team so it's impossible," he told reporters on Wednesday.
"I also experienced the derby in China as well when had to stay in stadium for four hours after full-time. I think we left the stadium at 3am.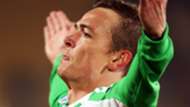 "And even when we left the stadium, the bus got pellets thrown and smashed windows, some of the boys got cut and blood all over them. 
"So I've been involved in some pretty fierce rivalries."
Sydney derby's record crowd a watershed moment
While those sorts of incidents aren't expected on Saturday night, Griffiths is aware of what level of atmosphere to expect with more than 50,000 fans expected.
"It's a spectacle. It's fantastic for Australian sport and for football and shows how far the A-League has come to get over 50,000 for a Sydney derby," he said.
"It's fantastic and something when I was a youngster I couldn't comprehend that that would happen [in the future]. I'm excited to be a part of that."
The veteran forward added: "It's a massive game. Wanderers fans are saying to me it doesn't matter if you lose against Central Coast as long as you win the derby.
"There's a lot of pride on the line… hopefully we can make Sydney red and black."
Judge my football not my age - Griffiths
Western Sydney still haven't won a game at their new dual home grounds - ANZ Stadium and Spotless Stadium - this season and Griffiths conceded it may have become a mental handbrake for the team.
The Wanderers' only home win of 2016-17 came against Newcastle Jets at Campbelltown Stadium where Tony Popovic's side will also play their AFC Champions League matches.
"I'm not superstitious in that way but sometimes it gets in the mind that you can't win at a place," Griffiths said.
"You have to overcome the obstacles and mind games where everyone says 'you can't win at Homebush'. Hopefully we can overcome that and put in a really good performance on Saturday."
In the opening round of the campaign, Sydney thumped the Wanderers 4-0 at ANZ Stadium, while the second derby at the Sky Blues' home ended 0-0.