Harry Redknapp
Redknapp fills mouth with maggots on live TV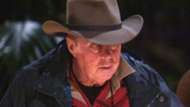 Former West Ham and Tottenham manager Harry Redknapp stuffed his face full of maggots on "I'm a Celebrity, Get Me Out of Here!" on Saturday.
Redknapp is the latest figure from the footballing world to feature on the show after Wayne Bridge and Neil Ruddock made appearances in recent years.
Redknapp, who was once the favourite candidate to take over the England job, has been popular with audiences in the new season of show with his amusing stories – having told his fellow contestants of a particular encounter with Prince Harry at a hotel, whom he didn't recognise and proceeded to address as "mate".
Redknapp, who was most recently in charge of Birmingham City of the Championship, has already taken to the Australian jungle life and has already eaten emu meat in recent days.
And now he has gone a step lower, filling his face with maggots and other live creatures alongside former TV personality Noel Edmonds.
Redknapp said: "I struggle to eat the food, honestly, in the jungle, that we get in camp. I don't think I've really ate anything (much) so this is going to be difficult for me.
"I've got to do it. I've got the grandkids watching. I can't let them down."
Redknapp also held witchetty grubs, beach worms and a giant burrowing cockroach in his mouth for a few minutes.
The former Spurs boss took Tottenham to the Champions League quarter-finals in 2011, defeating both Inter and AC Milan en route to facing Real Madrid in the last eight whi beat them 5-1.
Those performances seemingly had him in pole position to take the England job after the sudden sacking of Fabio Capello in 2012, before the FA trumped for Roy Hodgson. Redknapp was sacked by Tottenham at the end of that season.