Javier Hernández
Record-tying Chicharito has place among Mexico national team greats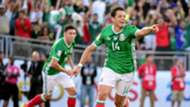 MEXICO CITY — He did it.
After a long wait,  Javier "Chicharito" Hernandez has put his name in the Mexico record books in ink. His goal against Costa Rica in the seventh minute Friday takes his all-time El Tri total to 46 goals in 89 appearances — getting to 46 in the exact number of games it took Jared Borgetti to set the mark to begin with.
It took nine months to find the tying goal, and it clearly was a weight off his shoulders.
"It's a beautiful thing," he said after the game. "For my confidence, it helps to be tied for top goalscorer. It's something I never dreamed of or imagined, but the most important thing is that it's the result of the groups' work."
Mexico coach Juan Carlos Osorio also was pleased to see Chicharito break the mark after a difficult snap.
"During the week training in the final third and these types of chances, Javier missed several times," Osorio said during his post-match news conference. "We hoped he would score. It made us very happy because we've always beleived Javier is a great finisher and today a great team player."
Inevitably, the endearing forward's legacy will be a topic of debate now that he has tied the mark, and soon breaks it. Is he the best Mexican player ever? It's a tough case to make. Rafa Marquez, still Chicharito's teammate on the national team, achieved more in Europe and has worn the captain's armband for El Tri in at least one game at four World Cups.
Chicharito ties Mexico scoring record
Even as the eyes scan down the list of players Chicharito has superseded, it's a tough sell. Cuauhtemoc Blanco was so critical to Mexico's 1999 Confederations Cup triumph and had so many other transcendental moments for club and country. Hugo Sanchez never reached the heights Blanco wearing the green shirt of the national team, but it's tough to ignore his accomplishments in Europe, where he's still the fourth-top scorer in Spain's first division after winning five scoring titles in La Liga.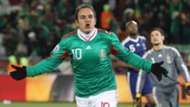 And yet, Chicharito surely solidified his place among those greats Friday. Who would've thought he was destined for this when he opened his Mexico account in a 2010 friendly at Candlestick Park against Boliva. The double, though, was a sign of things to come for Hernandez, whose movement in the box and nose for the ball make him so difficult for defenders to track and so fun for teammates to find.
He's been there when Mexico has needed goals most. The 2010 World Cup against France, four years later to cap a win over Croatia, opening the scoring against the United States in the CONCACAF Cup.
While he's been the beneficiary of many friendly games, scoring 23 of his total haul in non-tournament games, he also has seven in the Gold Cup, seven in World Cup qualification, and three in both the World Cup and Confederations Cup. Hernandez is playing in an era in which there are more friendlies, yes, but fewer cupcake games in qualification.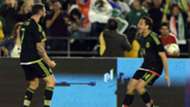 Borgetti took advantage of weaker opponents than those Chicharito is now facing in qualification, with the former Santos great racking up 23 goals in qualification — five against St. Vincent and the Grenadines and Trinidad and Tobago and three against Belize standing out as teams easily victimized by "El Zorro del Desierto."
Aguero falls short for awful Argentina
Borgetti also never coped with the demands of international travel put onto Chicharito since he moved abroad in 2010. As Mexico coach Juan Carlos Osorio recently has brought into focus, the travel time and altitude of Mexico City take a toll on players not accustomed to facing those challenges regularly. Chicharito has never been slow to represent Mexico, though, with his love for his country spilling over regularly. This trip was no different. "How I've missed being here," he wrote on Twitter.
Ya en México!! Como extrañaba estar por acá!! @miseleccionmx #SoyHechoEnMéxico pic.twitter.com/65PlzB51IC

— Chicharito Hernandez (@CH14_) March 20, 2017
There's more to come. Even if an offer from MLS too good to refuse aries at the striker's door, his European career is already more than respectable, with his 14 Champions League goals and frequent contributions in the domestic game. It's these moments and abilities that prompted Manchester United boss Jose Mourinho to say he never would've sold the Mexican were he in charge at United at the time when the Lilttle Pea moved away from the Premier League.
At 28 years old, Chichartio should be able to break Borgetti's record and extend his lead considerably. With no one else able to match his output or trouble opposing defenses like he does, Mexico will call upon him throughout qualification, this summer at the Confederations Cup, next year at the World Cup and into the next cycle.
Chicharito took his place among the Mexico greats Friday, and with the chance at more glory in the future he could yet surpass those who still stand between him and being his country's greatest ever.