RB Leipzig
RB Leipzig insist they wouldn't swap Bayern and Liverpool target Keita with Pogba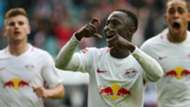 RB Leipzig are confident that Naby Keita can be kept out of the clutches of a rival, with the Bundesliga outfit adamant that they would not swap the midfielder even for Manchester United's Paul Pogba.
The 22-year-old has seen his profile rise this season after joining Leipzig's debut campaign in the German top-flight.
He has netted four times in 22 appearances to spark speculation of interest from Liverpool and Bayern Munich, with attention already turning towards potential summer recruits at Anfield and the Allianz Arena.
Keita, though, is tied to a four-year contract at Leipzig and the club's sporting director insists they have no intention of entertaining offers for a prized asset.
He told Sport1 Doppelpass: "I don't know anything about Bayern's interest. Naby's an extraordinary player who could play in any European top team.
"He's still under contract for a long time yet."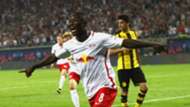 "If we qualify for Europe, there's also no reason why Nabi shouldn't play for us next season.
"I don't know if he'll play for us for three or four more years. No one knows -- we can't all look into a crystal ball. But I think it's very likely he'll play for us next season."
Stars that could break Pogba's fee
Rangnick added that he "wouldn't swap Keita with [Manchester United midfielder Paul] Pogba for our style of play."
Leipzig currently hold second place in the Bundesliga behind Bayern Munich, and while an early title challenge has faltered they remain in great shape to take a Champions League place for 2017-18.