Al Duhail
Qatar Stars League: Lekhwiya beat Al Sadd to the title with last-gasp win over Al Ahli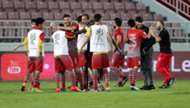 Lekhwiya came back from an early one-goal deficit and scored a last gasp winner to claim the 2016-17 Qatar Stars League title in dramatic fashion.
They beat Al Ahli 2-1 at the Abdullah bin Khalifa Stadium on Thursday thanks to a 95th minute winner from South Korean international Nam Tae-Hee.
Lekhwiya came into the game desperate for all three points to maintain their two-point lead over Al Sadd going into the last game of the season. But the Red Knights were instead handed the title after Al Sadd could only manage a 2-2 draw with Al Sailiya.
Al Ahli started the game well and were gifted a chance with just four minutes on the clock when Lekhwiya's number five, Khalid Radwan, played a shocking back pass to the goalkeeper which Al Ahli's Ali Fereydoun pounced on and smashed into the back of the net to give The Brigadiers an early 1-0 lead.
Lekhwiya soon settled after the early shock and began to dominate proceedings. In the 31st minute, their pressure paid off when they equalised thanks to a stunning goal from Ismail Mohamed. 
The hosts continued to press for a second for the remainder of the first half but were unable to find the back of the net again and it finished 1-1 at half time.
Lekhwiya Champion Of The Star League For The Fifth Time https://t.co/iQQhH7q7hM pic.twitter.com/x5mNQbCqJj

— نادي لخويا الرياضي (@Lekhwiyaclub) April 6, 2017
Lekhwiya began impressively in the second half but struggled to take the lead. They were persistent though and continued to press deep into injury time.
Then, in the 95th minute Nam Tae-Hee was gifted the ball in the 18 yard box when Al Ahli's goalkeeper came off his line and dropped a delivery from a corner kick. The ball fell perfectly for the South Korean who mad no mistake and drilled it into the back of the next to give Lekhwiya the lead and claim the 2016/17 QSL title.
This is Lekhwiya's fifth title in Qatar's top flight. The club was founded in 2009 and won their first title in the 2010-11 season. Al Sadd and Al Rayyan (once each) are the only other teams to have won the league since.