Liga MX
Pumas defender Arribas captured giving his own supporters the middle finger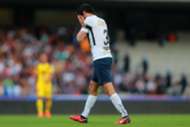 Pumas center back Alejandro Arribas is at the center of controversy after being captured sending a lewd gesture toward his club's fans.
In a video uploaded to Twitter, several Pumas fans can be heard shouting profanity at Pumas players leaving the field after a 4-1 defeat to Club America in the first leg of the Liga MX quarterfinals Wednesday and saying they're not worthy of wearing the shirt. Arribas is seen heading down the stairs toward the locker room but stopping to engage with the fans and raising his middle finger in their direction.
"If they think that the insults are going to help us, I don't think so. The vast majority of the stadium has supported us to the end, and that's what you have to do," Arribas said after the match.
It was the end of a rough day for Arribas who was whistled for a penalty in the loss and also ended up in the referee's book for protesting the call, which America manager Miguel Herrera agreed after the match was soft.
Nevertheless, Pumas' challenge is immense with a three-goal disadvantage to make up heading on the road to the Estadio Azteca for the second leg. The center back, a Madrid native, said his team can take inspiration from Juventus' push in the UEFA Champions League quarterfinals against Real Madrid.
"It's now almost impossible for our team, but Juventus went up 3-0 at the Bernabeu so you never know," he said. "Anything can happen in soccer. That's the beautiful thing and the team is going to push forward with everything. No matter what happens, we're going to be very united."
Juventus fell short when a stoppage-time penalty in the second leg gave Real Madrid a 4-3 aggregate victory.
The second leg between America and Pumas kicks off at 8 p.m. ET on Saturday.