United States
Pulisic and Adams withdraw from USMNT roster with injuries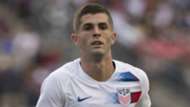 Christian Pulisic and Tyler Adams have both been forced to withdraw from the U.S. national team roster due to injuries. 
The young duo will miss out on their country's upcoming friendlies against Colombia on Thursday, and against Peru on October 16.
Adams has been suffering from back spasms, while Pulisic is sidelined with a torn calf muscle.
To help replace the sidelined pair the U.S. has called Philadelphia Union winger Fafa Picault into the roster, which now stands at 23 players ahead of the games in Tampa, Fla. and East Hartford, Conn.
The 27-year-old Picault has been capped once at the senior national team level, playing in a match against Puerto Rico in May 2016. 
Pulisic will continue to be stuck on just one appearance for the USMNT in 2018, after making nine appearances in 2017 and being named the U.S. Soccer Male Athlete of the Year.
The 20-year-old Borussia Dortmund winger has 21 caps for the national team, scoring nine goals. 
Adams, 19, has been vital for the New York Red Bulls in 2018, making 24 starts and breaking through to the national team as one of his country's best young prospects. 
The New York native has seven senior caps for the U.S. and has scored one goal.