UEFA Champions League
PSG: Lions in Ligue 1 but pretenders in the UEFA Champions League?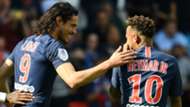 Paris Saint-Germain (PSG) face an important tie in the UEFA Champions League when they take on Liverpool at the Parc des Princes in the coming week.
PSG are in a precarious spot four matches into their European campaign in Group C and sit third with five points. However, Napoli and Liverpool are only a point ahead of them. As such, a win against Liverpool will help them gain control of their destiny but a loss could leave them on the brink of elimination. 
This has been in stark contrast to their domestic form where they have been nothing short of sensational. With a 1-0 win over Toulouse FC on Saturday, they have extended their winning start to the Ligue 1 season to 14 games and have already opened up a 15 point lead over the nearest challengers - Lyon.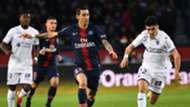 While it is expected, given the kind of star players PSG have recruited in Kylian Mbappe, Neymar, Edinson Cavani, Angel Di Maria and so on, their travails in Europe is a bit perplexing. Having never won the Champions League, one of the primary aims for PSG after Qatar Sports Investments (QSI) took over them was to win the European competition. 
But that dream is yet to be fulfilled as PSG churn in underwhelming performances more often than not in crunch situations. It was most evident in the last couple of years when PSG were one of the favourites to win the tournament outright. However, they would fall in the knockout stages to Barcelona in the 2016-17 season and then to Real Madrid in the 2017-18 season.
It has been pretty clear that their European performances have not quite matched their exploits and domination in Ligue 1. 
A team like PSG cannot just be satisfied with an easy run in a league where they are head and shoulders above the competition. They need to mix it up against the big boys and come up trumps.
Unai Emery was sacked because he could not deliver in Europe and that might be the fate the befalls Thomas Tuchel also in case the German too fails to lead the Parisiens to glory in the Champions League. 
The star-studded PSG squad is certainly capable of doing that. But first they need to negotiate a tough match against Liverpool.
Here's how to watch the games from SouthEast Asia.