World Cup
Predict and become a millionaire with LionsBet in Russia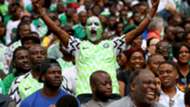 LionsBet is here to spice that experience up for you by making you a millionaire during the Mundial.
LionsBet Mega Jackpot of N5,000,000

LionsBet Mega Jackpot is a promotion running from June 1st to June 28th 2018. The campaign will be covering just the group stage of the global tournament. To be among the lucky winners, follow these instructions:
 Place a bet of N500 or above on world cup group matches only.              
Accepted bet slips for this promo must have 20 games from the group stage matches only.
 If a minimum of 15 out of 20 outcomes are correct, you are automatically qualified for the joint N5million Naira money bag.
 Only 3-way market types (1, X and 2) can be used for this promotion.
 Bet slips not having 20 outcomes will be disqualified for this promotion.
Bet slips having any outcome not related to any of the group stage matches will be disqualified for this promotion.
Cashout slips will also be disqualified for this promotion.
The mega jackpot will be distributed accordingly to all winners in their LionsBet accounts after the group stage.
LionsBet is also giving out N50 bonus to new and old customers every time the Super Eagles Team is playing during the group stage. The process will follow an additional N100 through to the knockout stage if the Super Eagles are still in the competition. These N50 and N100 will be free and has no restriction or rules, all you have to do is to place a bet, win it and BOOM, and you can withdraw your money.

All odds on LionsBet during this period are on TURBO CHARGE MOOD
For more information you can call or mail;
+234 809 4444 035
+234 809 4444 036
support@lionsbet.com