Opinion
POLL: Who is going to win this season's Champions League?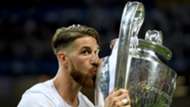 The 2017-18 Champions League Round of 16 is drawing near as 32 teams were whittled down to 16.

And with the composition of the knockout stage already decided, FC Barcelona, Manchester City and big-money spenders PSG top the favourites list of teams to dethrone Real Madrid – who are still in the competition – as champions of Europe.
Barcelona are arguably the most in-form team in Europe this season as they have not lost a single game in all competitions, finishing as winners of Group D which paraded Juventus, Sporting Lisbon and Olympiakos.
For Manchester City, they appear formidable thanks to their attacking onslaught led by Sergio Aguero and Raheem Sterling. They face FC Basel in the knockout phase and should they triumph, they look destined to win their first Champions League title.
Another team that looks likely to unseat Real Madrid are Paris Saint-Germain. With a poten attacking force led by world record signing Neymar plus Edinson Cavani and Kylian Mbappe - who have a combined 59 goals in all competitions, the French capital outfit's title-winning potentials in Europe must be taken seriously this time around. 
And as the tournament resumes on February 13, Peak Milk cannot help but ask which club will rule Europe this season.
Will it be any of the teams listed above or will it another club else? Have your say below!
document.write('');