Singida United
Pluijm: Singida United wants to win FA Cup and play in the CAF Confederation Cup next season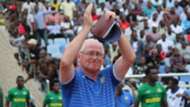 Following their victory against Yanga in the Federation Cup, Singida United head coach Hans van Pluijm has revealed that they now have their mind set on winning the title.
The Dutchman who won the title with Yanga in 2016, suggested that he wants to win it for the second time in three years.
Singida United knocked out Yanga after a 5-3 penalty shoot-out victory and booked a place to play against JKT Tanzania in the semi-final.
Speaking to Goal, Pluijm said that their focus is to win the title and get a chance to play in the CAF Confederation Cup next season.
"We are very delighted to win against Yanga, and now that we are going to face JKT Tanzania our focus is to win the title, we will work hard to achieve that goal" said the Dutchman.