Manchester City
Pep ridicules Mourinho's referee criticisms - 'Last year he said the same thing!'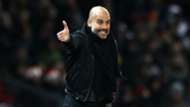 Pep Guardiola brushed off claims from Jose Mourinho that Manchester United suffered from refereeing mistakes in Sunday's derby defeat, suggesting that his rival is beginning to sound like a broken record. 
Manchester City took all three points and local bragging rights with a 2-1 win at Old Trafford, goals from David Silva and Nicolas Otamendi coming either side of United's solitary strike via Marcus Rashford. 
The victory extends City's Premier League lead to 11 points, but Mourinho suggested after the final whistle that his team should have received a penalty after Ander Herrera tangled with Otamendi. 
To Guardiola, however, those criticisms of the match officials sounded strangely familiar, with Mourinho having claimed before the game that City's players go down too easily under challenges. 
"Last season it was the same – we won here and it was the referee. Today as well," the manager said to Sky Sports. 
"Yesterday he spoke about the referee. We are an honest team. We had 75% ball possession, which means we wanted to play. We came here and did that.
"It's not true that my players go down easily. That is not an argument I believe."
The Citizens have taken England by storm in Guardiola's second season, and he believes that he is debunking a few old myths along the way.
"The personality to play here is what I want. We can play this way in England. People said we couldn't play the way we did in Barcelona in England but it is possible and we did it," he added.
"I knew that last season. Always I believed we could do it. Everyone can play how they want, that's why football is so beautiful. I'm happy to go to Stamford Bridge and Old Trafford and to beat them in this way.
"Football is incredible. We spoke about how to play United but never set-pieces offensively, and then we score two. Football is unpredictable.
"This win means a lot in the way we played for our confidence but in three days we go to Swansea in the winter time. We are going to face a lot of difficulties. In December it's impossible to be champions but it's good for us."