A-League
Pep Guardiola's selfless Melbourne City visit leaves Dario Vidosic flawed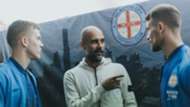 Manchester City coach Pep Guardiola took time off from a family holiday during the week to meet and greet Melbourne City fans. 
A sister club of the Premier League winners, Melbourne City winger Dario Vidosic had the honour of meeting the former Barcelona coach who he's admired for a long time.  
"I'm a big, big fan of his," Vidosic told Goal.
"I'm a Barca supporter too. I didn't really have much of a chance to watch him as a player. But pretty much followed him since he's been with the second team at Barcelona.
"It's a style of play I love and really enjoy to watch. It was pretty surreal seeing him walking down the stairs. 
"It shows how great a guy he is that he's only in Australia for a couple days, he's on holiday with his family, but he still makes time to come and see us.
"He's given up a bit of time away from his family, which I'm sure during the season he spends a lot of time away from them."
Manchester City have had success mining Melbourne for talent in the past with Aaron Mooy and are on the cusp of also signing teenager Daniel Arzani. 
Guardiola clearly aware of the potential Down Under revealing to Vidosic he keeps a careful eye on the club and league in general.
"He said sometimes they watch the games whether it be our games or other A-League games," he said. 
"So when they sit down to have breakfast, now we know Pep Guardiola is watching - pretty much piling on the pressure! 
"It was cool to share little bit of time with him. It's something I'll be able to show my kids when I'm older."