World Cup
Ospina: Colombia must not throw good work at World Cup away against Senegal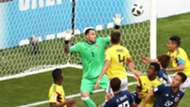 Colombia goalkeeper David Ospina says his outfit have their eyes fully set on Thursday's group decider against Senegal at the World Cup.
At the Cosmos Arena in Samara, the South Americans are set to face the West Africans in a fixture that ultimately determines the shape of Group H as well as who makes it through to the round of 16.
Los Cafeteros have their job absolutely cut out, as currently third on the table, nothing short of three points will guarantee passage to the knockout stage.
"We are not thinking about anything apart from the next game," said, Ospina, whose side handed Poland a 3-0 defeat after a 2-1 loss to Japan in their tournament opener. 
"We are still in third place in the group and if we don't win, then we are going home.
"So our concentration and our 100 per cent focus is on Senegal, not who we could play in the next round.
"Winning against Poland has put us back in the World Cup. 
"We must not throw the good work away now."
Colombia, who made their World Cup debut in 1962, are hoping to better their quarter-final berth achieved in Brazil four years ago. It remains their best ever finish at the tournament.
Russia 2018 marks Los Cafeteros' sixth appearance at the global showpiece.