Simba
Okwi and Bocco left out of the squad to face Stand United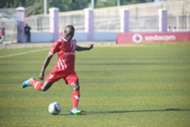 Emmanuel Okwi and John Bocco have been left out of the Simba SC squad for the Ligi Kuu clash against Stand United.
Simba SC leading scorer Okwi came off with a leg problem in the last Ligi Kuu victory against Mbao FC at the National Stadium.
His partner, Bocco who missed two games since he sustained an ankle injury in Shinyanga against Mwadui FC will be missed again for this encounter. 
Starting lineup 
Aishi Manula (GK), Shomari Kapombe (DF), Asante Kwasi (DF), Yusuph Mlipili (DF), Erasto Nyoni (DF), James Kotei (MF), Jonas Mkude (MF), Mzamiru Yassin (MF), Laudit Mavugo (FW), Shiza Kichuya (FW), Nicholas Gyan (FW). 
Sub 
Ally Salim (GK), Mohamed Hussein (DF), Rashid Juma (DF), Moses Kitandu (MF), Juma Luizio (FW), Juuko Musrhid (DF), Mwinyi Kazimoto (MF)