African All Stars
Okocha names Neymar as Cristiano Ronaldo and Lionel Messi successor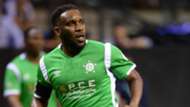 Former Nigeria international Jay Jay Okocha has tipped Paris Saint-Germain record signing Neymar to succeed Lionel Messi and Cristiano Ronaldo.
The former Bolton Wanderers' skipper who claimed that the forward plays his style of football is confident that the Brazilian is in line to take over from the stars who have dominated world football for some years.
"Yes, I think he (Neymar) will be the one to do it (take over from them)," Okocha told fifa website.
"Messi and Ronaldo have dominated world football for a decade and, given the nature of football, at a certain point, the baton will have to pass to someone else. I think Neymar has a great chance of filling that role.
"I'd say the player whose style most resembles mine would be Neymar. That's because I played with a sense of joy and you can see that he feels the same and really enjoys his own play.
"He doesn't play for himself or just to entertain the fans – he plays for his team. He uses his quality and skill for the good of the team.
The former midfield maestro charged African players to change their attitude and aspire to be among the best in the world.
"It's hard to name one at present (who can compete for the world footballer of the year). If you're talking about the top tier of players internationally, we don't consider ourselves good enough to compete at that level.
"We have to change that attitude, and then we'll be able to produce a player of the stature of the other top guys."