Young Africans
Nsajigwa: We beat a good team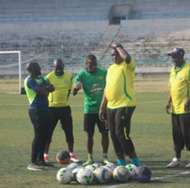 Young Africans Assistant Coach Shadrack Nsajigwa has praised the performance of their opponents Majimaji and congratulated his players for a beating a very good side in their round of 16 match in the Azam Sports Federation Cup (ASFC).
The Jangwani club qualified for the quarter finals of the competition after they ran out 2-1 winners following a Pius Buswita opener before Emmanuel Martin scored the winning goal in the 57th minute.
Speaking to Goal Nsajigwa praised his side for their organization throughout the game, while admitting that Majimaji had the better start to the contest.
"We are happy with the results we have got to day, we beat a good team, I think we fulfilled our target in the match which is to win and continue to next stage of the tournament" said Nsajigwa.
Yanga also qualified for the second round of the CAF Champions League last week after a 2-1 aggregate win over St Louis of Seychelles.