Chelsea
'Little brother' Kante still connected to boyhood club despite Premier League success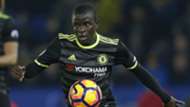 ---
EXCLUSIVE
---
N'Golo Kante is shining at the highest level of football despite his youth career being marked by rejection. JS Suresnes coach Pierre Ville stood by Kante while he searched for a professional club and revealed that his former player maintains contact with his first team to this day.
Suresnes signed Kante up at age 10 after his school teacher recommended that he make use of his athletic talents by playing football, but by the time he reached 16 the Chelsea midfielder was still struggling to find a professional team. Amiens, Sochaux, Rennes, Lorient and AS Beauvais Oise all said that he would not make the grade before Boulogne finally signed him up.
Diego Costa all smiles at training
Since then, Kante has gone on to become a key player for Chelsea - via successful spells at Caen and then Leicester City - and a full France international. Ville continues to help to run Suresnes and keeps in touch with the club's most famous graduate despite his new-found fame.
"We talk, but less since he's at Chelsea, because he's surrounded by people," Ville told Goal. "But he has called me, yes, for advice. He listens very much to what can be said about his game.
"But today there is nothing more to say to him as he is at the highest level. I know that as soon as he has the time, he will come back to Suresnes. He left only five to six years ago and he came back just before Euro 2016 to see his buddies."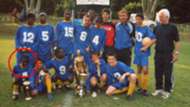 2016 was a special year for the 25-year-old, who won his first-ever top-level league title and his first international cap, scored his first international goal and helped his team to the Euro 2016 final before moving to Chelsea for £30 million from Leicester.
Antonio Conte counts Kante as one of the first names on his Chelsea team sheets and Ville thinks that his former player, who stands just 5' 6" tall, is a better footballer thanks to his small stature.
"It is because of his size that he is also strong," Ville added. "At home, he was really tiny, [so] he developed his intelligence and his physical abilities. When you play like that from 10 to 18 years old, you are stronger.
"His size is an enormous strength. He has always played in the midfield with us, because he has the qualities to play at this position, but he was very discreet in the game. He always played for his team, without doing more.
"That's why he can go even higher. He does not think that he is better than before, he just thought of getting up to the next level and that is what he has done by moving to Chelsea."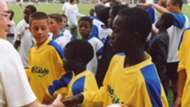 Suresnes have also produced Sylvain Distin, Armand Traore and Damien Perrinellle but they count Kante as the biggest talent in their 76-year history.
They earned €240,000 from his move from Caen to Leicester, which has helped the club develop its facitlities and continue to provide a place to play for kids in the western Paris suburb.
Kante is famously modest and softly spoken despite his rapid rise to prominence in European football, and Ville believes that his calm mentality endears him to people.
"When he scores, he does not take off his shirt, he does not kiss the badge," he continued. "He was always smiling but he was very discreet. It was a little difficult to establish contact with him.
"He never said no, for example, and he did not speak much. When he was given instructions, he would say 'yes', then he would leave, but he understood things very quickly. His behaviour makes the people around him take him as a little brother."
Since arriving at Chelsea, Kante warmed quickly to Kurt Zouma and has established a friendship with his fellow Frenchman. David Luiz and Nemanja Matic, meanwhile, have singled him out for praise in recent weeks.
Kante still drives a white Mini Hatch to Cobham Training Centre despite earning £110,000-per-week and Ville is proud that he has taken the values Suresnes taught him onto a bigger stage.
"Suresnes is a multi-sport club that celebrated its 75th birthday last year," he explained. "It is a club that seeks stability and has been a youth leader in the region, but it has lost some of that notoriety around 30 years ago, as other more powerful clubs have arrived.
The top 20 richest clubs in the world
"For the next 20 years, we seek stability with objectives that are not necessarily just to win game, but more of having a place in life where everyone likes to meet. We want to get the best out of each player to succeed and flourish.
"N'Golo must be very proud of what he has done and his success. He reinforces our vision as a club."