Goal United
Ngcongca: Madisha is a future Mamelodi Sundowns captain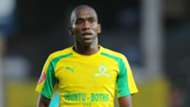 Mamelodi Sundowns have for the second successive season booked their place in the knockout rounds of the Caf Champions League.
The Brazilians have had a gruelling campaign which has undoubtedly tested the depth of coach Pitso Mosimane's squad, but the experience of Sundowns' more senior campaigners has played a vital role in their success.
One such player whose experience has been pivotal in this year's campaign was, Anele Ngcongca. While the Bafana Bafana international's Sundowns career got off to a slow start, he has solidified his place in the team and his experience of playing at the very highest level has come in handy for the defending champions.
While Ngcongca missed out on Masandawana's historic triumph due to injury, the 29-year-old remains hopeful that this time around he too can enjoy continental success.  
"It's been a great experience," Ngcongca told Goal.
"When I came to Sundowns I wanted to be part of the team who wanted to conquer Africa. I watched the guys play in the semi-final and the final of the Champions League, I was travelling with the team. It was a great atmosphere, and of course we can complain about the facilities that we have in Africa but that is where we need strong characters and your experienced players, the likes of Kekana and Thabo Nthethe's.
"It has been a great experience and that's why I want to add that star to the team, because I saw what the team went through. They are the legends of Sundowns because they brought the star and I want to be part of the team that I can have my name written on the wall," he said.
Despite Sundowns advancing into the quarter finals, Ngcongca believes there is still room for improvement.
"It could be better let's be honest," Ngcongca added.
"We need to wrap the games at home.  If we didn't beat St George in the last game, we could have been in trouble. What I've noticed in the Champions League is you have to win your home games and try away to get a point or a win.
Meanwhile, Ngcongca has reaffirmed the assumption that playing on the continent benefits the youngsters mentally because of the hostilities which they are exposed to.
"Yes, of course that is where they are separating boys from men. They are becoming much more mature, much wiser but they also need experience players to guide them because those packed stadiums can intimidate players and some players can't take the pressure," Ngcongca continued.
Speaking of youth, the past season saw Mosimane rope in Motjeka Madisha into the starting line-up, and Ngcongca is full of praise for the youngster's exploits. The former Genk defender does not only tip Madisha to be a future Sundowns captain but also believes that he should go abroad if the opportunity arises.
"He has been doing very well for the team," Ngcongca stated.
"He is a young boy coming out of the shell to play the role of a leader. For me I think he is a future Sundowns captain and I can also wish that as much as he is playing good, he could go overseas to learn more because that is where we need the Madisha's of this world to be playing, so they can make the Bafana Bafana team much stronger
"As much as we want players to play in Bafana Bafana that are doing well, but as we all know in Europe to play with the likes of Neymar and Hazard and to rub shoulders with those players, we can benefit as a country," Ngcongca concluded.