South Africa
Mphahlele: Let's not put too much pressure on Bafana Bafana starlets Singh and Mahlambi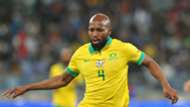 South Africa under-20 internationals Phakamani Mahlambi and Luther Singh were called up by stand-in Bafana Bafana coach Owen Da Gama ahead of the upcoming friendlies with Guinea-Bissau and Angola.
The duo are two of South Africa's brightest prospects and they will be hoping to put on a valiant showing during the international break. .
When asked about the duo's role in the side, Bafana Bafana defender Ramahlwe Mphahlele warned against putting too much pressure on their young shoulders.
"Look' let's not put too much pressure on them. You know' they're still young boys - they still have a long way to go," Mphahlele told The Times.
"Obviously you compare Phakamani(Mahlambi) and Luther(Singh)' and then you still have Keagan Dolly and Kermit Erasmus. In terms of experience they are just up there' compared to the two young boys.
"They (Mahlambi and Singh) are still young. We can't put too much responsibility on their shoulders to say they must carry the team," Mphahlele expressed.
"They just need to follow the lead of the senior players in the team and obviously listen. And I think that's the only way we can help them to become better.
"Because they still have a lot of work to do in the [U-20] World Cup. The experience that they are getting here can even help them to go and win the World Cup," he added.
"But to say they can carry the team - I think it's a little bit early to say that because it might weigh heavily on them.
"They must just take it easy and learn from the senior guys," Mphahlele concluded.