Mexico
Montes gets bigger challenge in start - Five thoughts on Mexico's Gold Cup victory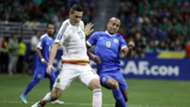 SAN ANTONIO — Mexico wasn't surprised that Curacao gave it a challenge Sunday, even if El Tri struggled more than was expected.
The result ended up being fine for the Mexicans. They achieved their goal of winning the group after a 2-0 victory over the Caribbean side. And, especially with an alternative side made up mostly of young players, fans and the press (ourselves included) may have to get used to the idea that the days of 6-0 Gold Cup results are behind us.
Mexico needed more from narrow win
"Maybe in the past teams won games easily but today football has grown so much. You have to play the games, you can't see anyone as a lesser," center back Jair Pereira said after the match. "They're teams that really do have great players. The only thing we had in mind was to achieve our top goal, which was to classify for the knockout stage in first place. So, we have to get ready. We have to look at all the good things we did and look at correcting the errors the national team."
There is lots of work for coach Juan Carlos Osorio to do before the team's quarterfinal Thursday against Honduras, but he also had to see some things he liked from his spot high above the Alamodome field. Let's look at five thoughts from the final match of the Gold Cup group stage...
---
Montes' first start tougher than debut
---

Cesar Montes had very little to do in his debut, coming on as a substitute in a game against Jamaica in which goalkeeper Moises Munoz said he sweated more in the warm-up to the contest than the actual match. Fans have been hoping the 20-year-old center back would be getting more national team experience. Their wish was granted when he started and went 90 minutes for El Tri against Curacao, and the current Caribbean champion gave him plenty more to do than Caribbean Cup runner-up Jamaica.
Curacao forward Gino van Kessel put pressure on Montes when he had the ball at his feet, while runs up the outside from the wingers and through the middle from Leandro Bacuna kept Montes and the rest of the defense occupied.
"It's a really tough opponent. You have to respect them," the defender said after the game. "Seeing their players, the majority of them play in Europe, most in Holland and others in England. It's a tough opponent."
And the Monterrey man said it wasn't a surprise for the team to run into a bit of difficulty, especially in the first 15 minutes of his full debut playing alongside a back four that never had seen regular competition together.
"That's normal. It's the first time we played together as a back four and, for me, that's normal. I think we did well enough to keep the clean sheet," he said.
That may seem like a position against coach Osorio's rotations, and the 10 changes from the game against Jamaica did look to slow Mexico, especially early when the team struggled to find a rhythm. But Montes' center-back partner, Chivas' Jair Pereira, said the pair's relationship grew quickly.
"Cesar Montes is a great player, so it was simply about getting together and having good communication and that's going to help us a lot," Pereira said. "I think today we solved issues well, we kept the clean sheet and what more can I say? Cesar is a great player who helps out the team a lot with the enormous quality he has."
Montes does have a bright future both at the club and country level, but playing left center back seemed to give him a few issues. Montes is comfortable with the ball at his feet but looked like an attacker at times trying to dribble out of the high press being applied.
"I try to do what (the coaches) ask whether it's on the ball or going forward," he said. "The opponent knew I'm right-footed and tried to make it tougher, but I think I did well."
---
Corona throws back to former glory
---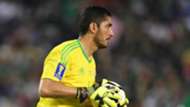 Jesus Corona is no longer in the top form of his career, and calls for him to start over Guillermo Ochoa got quieter after the goalkeeper's stand-out 2014 World Cup. And with Alfredo Talavera emerging as a strong contender for the Mexico job as well, the Cruz Azul shot-stopper has found it difficult to get traction. More frustrating for him was missing the Confederations Cup because of an injury.
RATINGS: Corona, Lopez get top marks
The benefit, though, is that he is making a case to be in the 2018 World Cup with his excellent performances so far at the Gold Cup. Corona was much busier than he probably should have been Sunday, but he rose to the occasion and looked like the goalkeeper who was so beloved by Mexican fans in 2013. His seven saves included a stunner just before the hour mark as Curacao tried and tried but couldn't beat Corona, hitting the woodwork twice and being denied by the 36-year-old on the other occasions.
"I said before that this game lacked goals on Curacao's side," assistant coach Luis Pompilio Paez, who filled in for the suspended Osorio, said in a post-match news conference. "They could've converted goals, but that's why goalkeepers are there."
And Corona came into the match ready to do his job, knowing that, as his coach said, the team had "everything to gain and nothing to lose."
"We know that Curacao was going to come out like that, go forward and try to hurt us," Corona said after the game. "We were thinking about that and that we were going to have to intervene. The opponent does its job too, the opponent counts. I had to get involved a couple of times but the other goalkeeper also made a lot of saves. He stopped two goals that could've gone in our favor."
Goalkeeper is a position of strength for Mexico, but Corona put himself right back in the mix for one of the three tickets to Russia with that performance and could continue to build his case as the tournament progresses..
---
Time for changes - of field
---

At its base, the system Osorio and Pompilio Paez want to run to create attack should work in a relatively simple way. Players overload one side of the field to coax defenders to come over out of position. If they don't, Mexico can use its speed on the wings and short passes created by players joining the attack from the center or the back to create chances there. But if the defenders do commit to that side, players need to switch the field. With so many players on one side, the winger on the other side should have both time and space to beat his defender one-on-one and either find a shot for himself or set up a teammate as the opponent rushes to cover.
Reluctant USA now Gold Cup favorite
That's all well and good, but if there is not a change of field, the idea falls apart. Often it will come from the center backs, which is why Hector Moreno and Nestor Araujo have been involved in so many plays, either launching a long ball toward an open winger or finding the center forward tucking into a pocket of space. But the center backs Sunday weren't able to find the time to do that (nor do Montes and Pereira have the long-ball abilities of Mexico's top defenders), and the fullbacks and wingers were too reluctant to look to the other side.
If El Tri want to continue to create dangerous chances - especially if they want to score goals without a playmaker - they're going to need to be much quicker to get their heads up and switch the point of attack. Otherwise, a team like Honduras will be able to do what Jamaica did, clogging one side, denying crosses to enter from that sector of the field and frustrate the Mexico attack.
---
'Weight' of armband holds down Guti?
---

Pachuca midfielder Erick Gutierrez was handed a big responsibility Sunday, not only holding down the middle of the field but also getting the captain's armband. It's symbolic, sure, but when Corona is on the field, seeing a 22-year-old with less than a dozen caps in the role is notable. Unfortunately for "Guti", he seemed to be weighed down by the pressure of leading the team. 
His movement of the ball in the midfield was adequate but needed to be faster against the Curacao's athletic team, and he also missed two clear chances to put Mexico further in front after El Tri had opened the scoring. 
"Today he had a good match, it's an experience and commitment he has to take on," Pompilio Paez said. "We did a vote between the three players who represent the team and spoke with the coaching staff, and they selected him. Socially, he meets the conditions and we have confidence in him."
"Today, Corona could've been captain because of the experience he has, Jair Pereira who has done it with Chivas and because he's helped us a lot with leadership."
Ultimately, Guiterrez was the pick, but he needs to have a stronger showing if he's going to have the pull the coaching staff and his teammates were hoping he'd have.
---
Put your finger in the air
---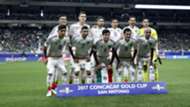 In the first half, Pachuca right back Raul "Dedos" Lopez was playing further forward as the right wing with Luis "Chaka" Rodriguez behind him. It was a throwback to the way the Chivas product came up before converting to defender and it was clear he didn't mind the change.
Lopez was able to put in several crosses, including an assist, and said beyond helping his team get on the board he also was thrilled to see the field after sitting on the bench in the first two group games.
"My natural position is a bit deeper, I've been playing there for about three years now, but going forward I'm really comfortable on the wing," he said after the match. "I'm happy whether I'm farther forward or in the back."
Lopez shifted to right back in the second half and played well there, and you'd think more playing time might be in the 24-year-old's future. His versatility helps him but perhaps even more so is the strange fact that he seems to be the only Mexico player who can put a cross on target to the pair of forwards Mexico had in its front three, Angel Sepulveda and Martin Barragan.
"The coaches told Lopez before the game to "try to be very attacking," he said. "For me, the instructions were to send in a lot of crosses, which I really like, look into the area to find the two forwards, Barragan and Sepulveda, which is what they like."