PSL
Mobara apologizes to Orlando Pirates fans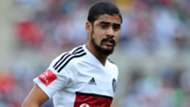 Orlando Pirates utility player Abbubaker Mobara has apologized to the club fans following their disappointing 2017/18 season where they finished outside the top eight for the first time in 30 years. 
Speaking at the launch of Pirates' new kit on Monday, the South Africa international said the players have already put what happened last season behind them, saying they are now looking forward to the upcoming campaign.  
"Having a bad season last season is something that's now in the past. We have to just put it under the bus, forgive ourselves for what happened and just move on. It's a new league and it's anyone's league again. We're starting over," Mobara told the media. 
 
"From here forward we just have to prepare for what's coming ahead of us. There are things that we cannot go back and fix, but we have to fix it now. As a team, we have to unite, get together, decide what we want for the season and go out there and prove ourselves to everybody," said Mobara. 
 
"I feel we owe everybody else an apology for our past season, but we're also humans and make mistakes," added the 23-year-old. 
Pirates reached the final of the Nedbank Cup, but they were thumped by SuperSport United, and therefore finishing the season empty-handed.