Transfers
Minnesota acquires veteran Bobby Shuttleworth from Revolution for Femi Hollinger-Janzen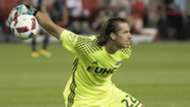 Minnesota United has acquired keeper Bobby Shuttleworth from the New England Revolution in exchange for Femi Hollinger-Janzen, the two MLS teams announced Wednesday.
The trade is a straight player swap with no money exchanged in the deal.
Whitecaps sign former Sounder Montero on loan
"Bobby's a great player who has had a lot of strong performances in goal for New England," Minnesota Sporting Director Manny Lagos said in a press release. "His experience and quality will be an important addition and asset throughout the season here with the club."
Shuttleworth, 29, is entering his eighth season in MLS. He has spent the last four as the Revolution's starting keeper. He helped the team to an MLS Cup final appearance in 2014 and a U.S. Open Cup final appearance in 2016.
The other keepers on Minnesota's roster are John Alvbage, a long-time veteran of Sweden's top division, Patrick McLain and Alec Ferrell.
Hollinger-Janzen, a third round selection in the 2016 MLS draft, made 19 appearances in his rookie campaign with the Revolution. The forward scored one goal and added a pair of assists.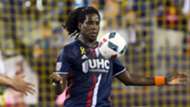 However, the Revolution lost Hollinger-Janzen in the expansion draft earlier this offseason.
"The entire New England Revolution organization thanks Bobby for his years of service. We wish him well in the next phase of his career with Minnesota," Revolution General Manager Michael Burns said in a press release. "We are pleased to have Femi back on the roster for the 2017 season and look forward to welcoming him back to the club."
The trade may mean a starting opportunity for Cody Cropper. The U.S. youth international joined the Revolution in 2016 after spending the early portion of his career in the lower leagues in England. Cropper, 24, made one start for the Revolution last season — a 3-0 win over the Montreal Impact in October.
Brad Knighton and Matt Turner are the other keepers on the Revolution's roster.