MLS
MLS Talking Points: Rivalry week loaded with playoff implications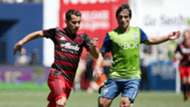 Remember when the Seattle Sounders and Portland Timbers were both in the midst of midseason slumps that had us wondering whether two teams that came into 2017 as title contenders might wind up enduring disappointing seasons?
Remember when the New York Red Bulls were dominating their rivalry with New York City FC, leaving us to wonder why the blue side of NYC couldn't figure out the red side?
Yes, things have changed considerably on both fronts, and this weekend's marquee rivalry clashes offer examples of just how much. 
The Sounders are on a roll, unbeaten in 10 matches (6-0-4) heading into their home date with arch-rival Portland, which has seen its own revival with a 4-1-1 stretch that has helped the Timbers climb into second place, right behind West-leading Seattle.
The Red Bulls have gone from entering 2017 dominating their series with NYCFC to heading into Friday's meeting at Red Bull Arena trying to avoid a regular-season sweep. Jesse Marsch's squad is in a confident mood, having recently reached the U.S. Open Cup final on the heels of an impressive run of results. NYCFC has beaten the Red Bulls twice though in the past month, and will head into enemy territory confident a sweep is possible.
There is much more at play in MLS this weekend, what with playoff races tightening up in both conferences as we prepare for the stretch run. Only a handful of the league's 22 teams are completely out of the playoff picture, but that handful will grow bigger this weekend.
Here is a look ahead to a rivalry-filled MLS Week 25:
---
IT'S A BIG WEEK FOR ... CASCADIA CLUBS
---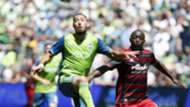 Strong runs of form in the past month or more have left all three MLS Cascadia Club in playoff positions with September looming, and two of them fighting for the top spot in the West.
The Sounders are riding a 10-match unbeaten streak, with Clint Dempsey's hot form since the Gold Cup helping the stellar work of Nicolas Lodeiro and Cristian Roldan in midfield. They sit one point ahead of the Timbers atop the West, which would explain why coach Brian Schmetzer rested Dempsey, Osvaldo Alonso and Roman Torres in Wednesday's draw against Vancouver to have them ready to face the Timbers.
Portland didn't have that luxury in Wednesday's 2-1 win against Colorado, trotting out a full-strength squad, at least in terms of uninjured players. Fanendo Adi and Liam Ridgwell will miss the trip to Seattle, putting more pressure on Portland's vaunted midfield to pick up the slack. 
While Seattle and Portland fight for first place, the Vancouver Whitecaps will be across the country, trying to hold onto their playoff position. The Whitecaps have grabbed sixth place in the West on the strength of a 4-2-2 stretch, but a cross-country trip to Orlando City after playing Seattle to a draw on Wednesday is a brutal test for Carl Robinson's men.
---
DON'T MISS ... RED BULLS vs. NYCFC
---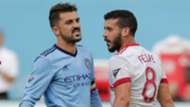 Though it may not be generating the kind of buzz it has in the past, the New York derby's latest installment just might be the best in the series.
NYCFC enters having won eight of its past 11 — the best stretch in MLS — and that run has included a pair of wins against the New York Red Bulls. Conversely, the Red Bulls have actually been playing some of the best soccer in the league in recent months. As a matter of fact, NYCFC is the only team to beat the Red Bulls at full-strength in almost three months.
Jesse Marsch's shift to a 3-6-1 formation helped the Red Bulls win five of six matches before last Friday's loss to Portland — which came with most of the Red Bulls' key starters rested after their Open Cup victory against FC Cincinnati. That decision has helped the Red Bulls head into the derby rested and ready to retake control of the series.
NYCFC showed it can deal with the Red Bulls' new-look system in its 3-2 win three weeks ago, but that win came on the tiny Yankee Stadium field. The Red Bulls will be hoping the extra space provided by Red Bull Arena's wide field helps their six-man midfield open up NYCFC's defense. The Red Bulls held a 55-45 possession edge and matched NYCFC in total shots in the loss at Yankee Stadium, and they'll feel confident they can improve on that, especially with Bradley Wright-Phillips and Sacha Kljestan playing well.
There is more than just bragging rights on the line in this one. A loss would put a dent in NYCFC's Supporters' Shields hopes, along with potentially loosening NYCFC's grip on second place in the East. A Red Bulls loss could lead to a slide in the standings, bad news with tough road matches against FC Dallas and Chicago looming.
---
WEEK 25 PREDICTIONS
---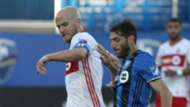 D.C. UNITED 1, Revolution 0. Will a D.C. United player actually score a goal for once, or can the run of winning own-goals continue? We'll give Paul Arriola his first D.C. goal while the Revs keep struggling.
Union 1, ATLANTA UNITED 2. The loss to D.C. United had to sting, but Atlanta United should regroup and find a groove against a Union side that is hitting a late-season slide.
Crew 1, FC DALLAS 2. The dropped points against Houston at midweek didn't make Oscar Pareja happy, but a road win could be just what FC Dallas needs to climb out of its slump.
ORLANDO CITY 2, Whitecaps 0. Cross-country travel after a midweek match is a recipe for disaster for Vancouver, especially when facing a rested Orlando City with Kaka back from suspension.
FIRE 3, Minnesota United 1. The Fire are 1-5 in their past six and Nemanja Nikolic has gone cold, but the Loons should serve as just the slump-buster Veljko Paunovic's team needs.
DYNAMO 2, Sporting KC 1. As tough as it is to bet against a rested Sporting KC side with just one loss in 11 matches, road games have continued to be tricky and the Dynamo are unbeaten at home.
REAL SALT LAKE 3, Rapids 0. Don't look now but RSL is within touching distance of a playoff spot, and facing a hapless Rapids side is just what Mike Petke ordered.
Impact 1, TORONTO FC 2. The Impact are riding a four-match winning streak, but right now it's tough to bet against a full-strength TFC, which has too many weapons for Montreal to handle.
Galaxy 1, EARTHQUAKES 2. The Earthquakes were pummeled by RSL on Wednesday, but now face a Galaxy side with a patchwork defense and struggling offense. Look for Chris Wondolowski to lead the charge for San Jose.
SOUNDERS 2, Timbers 1. Clint Dempsey continues his torrid goal-scoring run, while the Timbers attack struggles without Fanendo Adi.