Arsenal
Mkhitaryan in fresh fight to prove his worth at Arsenal after Man United misery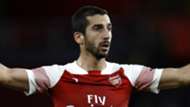 Almost a year on from joining Arsenal in a swap deal which saw Alexis Sanchez go to Manchester United, the assessment of Henrikh Mkhitaryan's contribution to the Gunners is clear. 
Nine assists and five goals in 32 appearances looks like, on the face of it, a decent return for a player who was completely out of favour at Old Trafford, but the Armenian's performances over the first half of this season suggest that he is struggling to show the form which saw him win Bundesliga Player of the Year three seasons ago.
The 29-year-old has certainly been a more impactful signing than Sanchez, who is now sidelined with injury following a torrid few months where he has struggled to make a lasting impression under Jose Mourinho at United.
Mkhitaryan's three assists on his debut against Everton demonstrated the contribution he can make, even if a series of inconsistent outings towards the back end of last season cast doubt on how talismanic a player he can be.
His two goals and one assist from his 10 Premier League appearances this season can be deemed a relatively good return, but a poor showing against Bournemouth and being substituted at half-time of the north London derby demonstrate he lacks the consistency to be guaranteed a spot in the Arsenal starting XI.
When asked to reflect on his first year at Arsenal, Mkhitaryan replied: "I would say it's a bit too early to say something about it but I'm very pleased to be here and I'm trying my best.
"It wasn't very easy at the start but I kept working every day and game after game, I'm trying to improve my game.
"I would say everything is going well, I'm very happy at the moment and I hope to continue in the same way."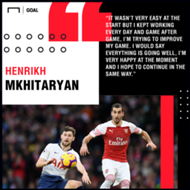 Arsenal are blessed with riches in attack. From Mesut Ozil to Pierre-Emerick Aubameyang, and Aaron Ramsey to Alex Iwobi, there is no shortage of firepower up front where boss Unai Emery is concerned. For Mkhitaryan, a player whose confidence was shattered by Mourinho after he was left out of seven matchday squads, withdrawn in the FA Cup third round and criticised for not being "ready" physically and mentally, he has fought hard to prove himself in the Premier League.
Possessed with a unique dribbling style and astute technical ability, Mkhitaryan's telepathic partnership with Aubameyang was a key facet of Borussia Dortmund's successful years. It has yet to be replicated as much at Arsenal, mainly due to the fact that Ozil has played behind the striker with Mkhitaryan operating in an inside right role and rarely finishing a game he started.
"I think it makes your job easier [having world-class strikers]," said Mkhitaryan. "From the left side you have Auba, from the right side you have Lacazette, you can play in the middle where Mesut is taking position so it makes things more easy. It's a [dream] for me and I think for the others as well."
The recent match against Bournemouth saw Mkhitaryan lose possession, struggle to trap the ball and unable to create chances for his team-mates. All players have their off days but it appears Mkhitaryan is reaching the latter stages of his career and is struggling with the fierce competition he faces at Arsenal right now. His relatively large salary is one reason why Ramsey is set to leave at the end of the season, with the Gunners withdrawing their contract offer to the Welshman.
As Ramsey continues to impact matches and perform to the best of his ability, despite being able to sign a pre-contract with foreign teams in January, Mkhitaryan faces the prospect of having to fight for his Arsenal future, with the Gunners' head of recruitment Sven Mislintat keen to make changes over the summer window, as a number of player contracts expire and several incomings are expected.
Mourinho was certainly wrong about Mkhitaryan's attitude, and Arsenal clearly got the better end of the swap deal, but it's time for the Armenian to maintain a consistent run of form before he gets ousted from the starting line-up permanently.