Mexico
Mexico makes statement vs. Curacao - but not the one El Tri needed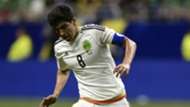 SAN ANTONIO — Another opportunity presented, another opportunity missed.
This game was a chance for Mexico to make a statement of intent, for a young group to show it's ready not only to make a charge at the Gold Cup title but also for the top Mexico team. The only message the 11 starters sent in a 2-0 win over Curacao is that they're going to need something more to win the Gold Cup.
The good & bad for Mexico vs. Curacao
As good as Curacao was - and plenty of credit has to go to Remko Bicentini, even as the coach's side exits the tournament having lost all three group games - the chances were there for Mexico. Bicentini stayed true to his word and had his team's ears pinned back as usual. They looked to get forward, leaving space in behind for Mexico to exploit.
But Mexico didn't exploit that space. Angel Sepulveda's header off Raul Lopez's cross was the only time Mexico could beat Curacao shot-stopper Eloy Room. The team again lacked imagination getting forward, like it did against Jamaica. 
Así abrió el marcador Sepúlveda con un gran cabezazo. #CUW 0-1 #MEX pic.twitter.com/MOmfiUR4lJ

— Univision Deportes (@UnivisionSports) July 17, 2017
Elias Hernandez did a bit when he entered the match midway through the second half and created his own chance, but Room denied him on his best opportunity. A goal from Edson Alvarez in stoppage time on the one occasion Room made a poor decision, coming off his line after his defense couldn't clear a Hernandez pass past the America man, makes the scoreline look a bit better.
"Today's game, lots of new players, not only you guys (in the press) but also we wanted to know how they'd respond," said Luis Pompilio Paez, the Mexico assistant in charge during matches this tournament while Juan Carlos Osorio is suspended. "We can come to conclusions in individual analysis that some of them didn't have the performances we hoped for, others did. We have a game today where we lost the first three balls, the other team played their game and created some dangerous sitautions before we scored the goal.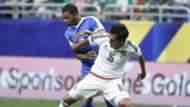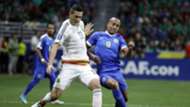 But a goleada this was not. There were many moments when Mexico fans were holding their breath. There was a penalty shout in the first half that wasn't give to the Caribbean nation. Two shots hit the post while Curacao put eight on target in the match. And Gino van Kessel kept the center backs occupied for the majority of the night, becoming even more effective when Leandro Bacuna surged forward to join him.
"We did for sure," Bicentini said when asked if his team deserved more from the game. "Especially in the first 15 minute when we created a lot of chances to score, in which we should have made it an easier game on ourselves. But we didn't score."
Mexico achieved its goal of the group stage, getting through as the winner and heading to Phoenix to face Honduras. Los Catrachos are yet to score this tournament, and are much more likely to play the same kind of game Jamaica did. A different approach than the one the team took Sunday will be needed.
The question Juan Carlos Osorio's critics ask so often of why so many rotations is one that again is legitimate after an overhaul. One Mexican journalist suggested the same message that appears on Mexico's alcohol advertising, demanding users "AVOID EXCESS" be applied to Osorio's rotations. When there are four or five, the team looks refreshed. When there are nine or 10, as there were Sunday night, the team looks confused.
It's up to the coach to make sure his young group understands what he wants it to do and has the ability to carry out that plan. If he's not able to transmit that message to this squad, Mexico simply will not be good enough to lift the enormous trophy awarded to this competition's winner.