Manchester City
Manchester City's Gabriel Jesus sets ambitious return target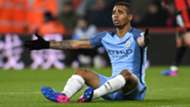 Gabriel Jesus is hoping to return to action with Manchester City before the end of the 2016-17 campaign.
The Brazilian saw a bright start to life at the Etihad Stadium suffer an untimely blow during a Premier League meeting with Bournemouth in February.
A broken metatarsal forced him to undergo surgery and threatened to bring an end to his debut campaign in England.
WATCH: Gabriel Jesus dances at NBA
The 19-year-old is, however, confident that City have not seen the last of him this term.
He is still being forced to use crutches at present, but his sights are set on a rejoining Pep Guardiola's squad in the not too distant future.
Asked by SporTV to put a possible timescale on his recovery, Jesus said: "I don't know, I have no return prediction. But I hope I can still play some games this season."
Jesus was expected to be sidelined for up to three months, but he could make the final few weeks of the season.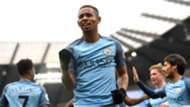 That would allow him to help City push for a top-four finish in the Premier League, while the FA Cup final could also form part of his plans if Arsenal can be seen off in the last four.
For now, though, the youngster is focused on his rehabilitation, with it his opinion that going under the knife was the best decision in the long run.
He added: "It's good. Thank God, the effort, not just mine, but from all the physiotherapists in Manchester, doctors and everyone. It was not easy for me.
Jesus: It's an honour to know Guardiola
"It's my first injury. Not muscle injury, but it's the first time something happens that leaves me out of games. So it was not easy.
"But I saw that, of course, no one wants this to happen, but it could be worse. So we operated soon, I decided to operate and give it time."
Jesus had netted three times in four appearances before picking up the injury in his fifth outing for City.