Mamelodi Sundowns
Mamelodi Sundowns don't know much about AmaZulu, claims Pitso Mosimane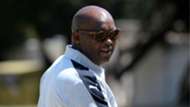 Pitso Mosimane admits that's their opponents AmaZulu are a closed book ahead of their Premier Soccer League (PSL) clash on Saturday night.
Mamelodi Sundowns will be keen to bounce back following their midweek defeat to Kaizer Chiefs, but it won't be easy as Mosimane stated ahead of the clash in Tshwane, that they do not know much about the PSL returnees.
However, Mosimane is wary of the goal threat which Usuthu could pose.
"For me, AmaZulu are a closed book. I don't know them well, they are a new team," Mosimane told the media.
"I saw very little when they played Platinum Stars. I saw them a bit when they played Golden Arrows. I saw goals so I had to check and unpack and after that I was able to see what kind of a team they are," he said.
Furthermore, the 53-year-old has lamented the Brazilians' poor record at home this season.
"We have lost all our games at home, and when we travel, we have a 100% record. It is unbelievable, we win away, maybe in the AmaZulu game we could get a breather, but we will see how it goes," he added.
Meanwhile, Mosimane's counterpart Cavin Johnson does not believe the Sundowns coach's sentiments.
"There is nothing Pitso doesn't know. He knows what he is going up against all the time. Sundowns are too much of a big club to tell you they know nothing about AmaZulu, because we played on Wednesday and we play today, it is mind-coaching that you have to do now and the mind-coaching is that you make sure the players are in the game in order to come out with something against Sundowns," Johnson said.
"The biggest challenge for us is that we have been plagued by injuries. So, it is up and down all the time, because a player is in this week, next week he is out, and that is always a problem for us, but we will do our best to manage against Sundowns," he concluded.