Super League
Malaysia call-ups kept Davies going during underwhelming 2016 season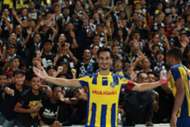 ---
BY        ZULHILMI ZAINAL       Follow on Twitter
---
Following a disappointing 2016 season that saw them almost relegated from the Super League, Pahang have bounced back in 2017 under head coach Dollah Salleh's second stint with them.
The former Malaysia head coach had been appointed in the pre-season, having led Pahang to the 2013 Malaysia Cup glory in his first stint.
And following their 3-0 win at home over PKNS FC on Tuesday, the Elephants currently lead the table, at least until second-placed Kedah's match against Selangor on Wednesday.
Goal managed to talk to Pahang skipper Matthew Davies, and asked him on their resurgence this season and the effects Dollah has had on his teammates.
The 22-year old defender told us in a private message that Dollah has instilled the importance of keeping their momentum, and converting it into confidence.
"I think it's a matter of the team taking confidence from our wins and performances, (and) bringing that forward to our next games.
"Keeping the momentum is important and Dollah is constantly reminding us to continue playing how we've been playing," responded the Malaysia international.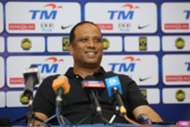 Dollah Salleh. Photo by Asiana.my
Last season was undoubtedly a forgettable season for the Elephants and their fans, and we asked Davies how he coped mentally throughout 2016.
According to the former Perth Glory man, the motivation he seeked to keep him going was in the national team call-ups he received, under Malaysia boss Datuk Ong Kim Swee.
"It was definitely a difficult year mentally. We were in a situation where we were so desperate for any points that when we lost it really hurt.
"I kept myself positive by focusing on national team call-ups and trying to keep my own performances high," said Davies.
This season however is turning out to be a much better one for the right back and his teammates, and they now lead the table, and are set to take on Melaka United in the third round of the FA Cup.
When asked whether they are now under pressure to capture both titles to make up for the lack of any last year, Davies simply said that they do not want to be too eager this early in the season.
"No, I don't think so there is any pressure to lift either cup, we're not getting too far ahead of ourselves.
"It's still very early on in both competitions but obviously when you start to go a little further the pressure starts to build. For now I'd say the team isn't feeling that," he explained.
Pahang next play away to defending champions rivals JDT this Friday in the league, before their cup match against Melaka. After that the Malaysia training camp begins on March 13, in preparation for their AFC Cup qualification match against North Korea on March 28, with the Australian-born defender likely to receive another call-up from Kim Swee.