African All Stars
Liverpool legend Ian Rush wants Salah to eclipse 34-year record in Champions League final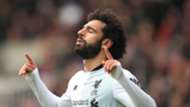 Ian Rush has said that 'he wouldn't be disappointed' should Mohamed Salah break his 34-year goalscoring record at Liverpool, preferably in the Uefa Champions League final.
Following his summer purchase from AS Roma, Salah has taken to life at Merseyside in spectacular fashion, scoring 37 times in only 41 games in all competition.
And the Egypt international is just 11 goals away from eclipsing the Anfield great's record of 47 efforts, set in the 1983-84 season to help the Kops clinch a treble.
However, with eight games left of the ongoing campaign, and three more should they make it to the Champions League final, Rush said it would be 'special' if the 25-year-old outdo his feat.
"It is a possibility [that Salah can break his record]. Before the four goals against Watford, I might have said no," Rush told Standard Sport.
"But if he's going to do that [break his record] then hopefully Liverpool will progress in the Champions League. It's a matter of seven games and whether Liverpool make it to the Champions League final.
"When I scored 47 goals we got to the Champions League final. It'll be an amazing feat. When I did it, I didn't know how I'd done it myself!
"When I did it, we won three trophies. So he'll want the team to [also] win trophies rather than score goals. I wouldn't mind if he broke it in the final."
"I wouldn't be disappointed [if Salah breaks the record]," he continued.
"Gareth Bale broke my record for Wales - records are there to be broken. If they're going to be broken, make sure they're broken by someone special. Bale is special. He flew to China to do that so I applaud him for that.
"If Salah does beat my record, it'll be special. It really is a joy to watch him."
To ensure Rush's wish of having his record surpassed in a Champions League final setting stay on track, Salah and his teammates must negotiate their way past Manchester City in the quarter-finals of the competition, with the first leg billed for Wednesday evening at Anfield.