Singapore
Singapore 6 Timor Leste 1: Lions enjoy comfortable win over minnows Timor Leste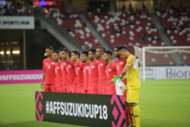 Singapore started the game as expected on the front foot as they needed the goals. Captain Hariss Harun began proceedings with a well-taken shot on the edge of the penalty box that went just wide of the goalpost.
The Lions kept heaping on the pressure and in the 12th minute their efforts were repaid as a well-taken corner caused confusion in the Timor Leste penalty box. Safuwan Baharudin was on hand for the men in red to bundle home the ball and give his country the lead.
However Fandi Ahmad's charges showed their sloppiness defensively once again as they allowed Timor Leste to counter attack and score through Rufino Walter in the 14th minute. It was reminiscent of Bacolod City all over again.
In the 19th minute Singapore managed to bounce back as for the second time Safuwan stepped up to unleash a powerful shot in the penalty area, after a set-piece from the Lions caused the Timorese keeper to parry the ball straight into his path.
Singapore were firmly in control now and this time another set-piece unhinged the Timorese defence allowing Ikhsan Fandi to score his first goal of the tournament in the 20th minute.
Ikhsan followed that up with a superb overhead kick in the 42nd minute which had the crowd on its feet. It was his combination with Khairul Amri that led to his well-taken goal.
In the second half, the same narrative continued as Singapore continued their dominance with their opponents failing to carve out any chances.
But the Lions were frustrated as they couldn't add to their tally despite controlling the match for large portions.  Singapore had chance after chance but all of them went begging. In the dying stages Faris Ramli and Safuwan managed to score a goal each as Singapore completed a 6-1 win over the Timorese.