Simba
Ligi Kuu Wrap: Mavugo to be dropped by Simba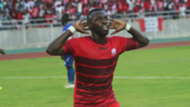 ---
Mavugo to be dropped by Simba
---
Reports suggest that Simba's Burundian striker will be released this current transfer window.
Reports further suggest that the team feels that the striker has failed to impress in the two seasons he has been at the club and are a better off signing another player in his place. 
---
Matheo Anthon hands in transfer request
---
Yanga Striker Matheo Anthon has handed in a loan transfer request to Kagera Sugar. The striker hasn't started a single this season and sees a move away from the club for the rest of the season as best solution for all parties involved.
Yanga Head Coach, George Lwandamina has confirmed receiving the players request and awaits the management decision.
---
Azam and Simba interested in Mwashiuya
---
Simba and Azam are all interested in Yanga star Geofrey Mwashiuya the players has revealed.
The player who has six months left on his current deal revealed in an interview with saleh jembe that both Simba and Azam are interested in his signature.