Leicester City
Leicester City fixtures: The Foxes' complete 2017-18 Premier League schedule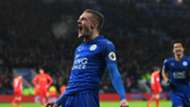 Leicester City's fixtures for the 2017-18 Premier League season have been released.
The Foxes will begin the campaign with an away match against Arsenal and conclude it nine months later against Tottenham at Wembley Stadium.
With the burden of being defending champions off their shoulders, Craig Shakespeare's men will hope to continue the run of fine form they enjoyed at the back end of the 2016-17 season. Their full league fixture list for 2017-18 is below.
---
LEICESTER'S 2017-18 FIXTURES
---
| Date | Time | Match |
| --- | --- | --- |
| 12/08/2017 | 15:00 | Arsenal v Leicester City |
| 19/08/2017 | 15:00 | Leicester City v Brighton and Hove Albion |
| 26/08/2017 | 15:00 | Manchester United v Leicester City |
| 09/09/2017 | 15:00 | Leicester City v Chelsea |
| 16/09/2017 | 15:00 | Huddersfield Town v Leicester City |
| 23/09/2017 | 15:00 | Leicester City v Liverpool |
| 30/09/2017 | 15:00 | Bournemouth v Leicester City |
| 14/10/2017 | 15:00 | Leicester City v West Bromwich Albion |
| 21/10/2017 | 15:00 | Swansea City v Leicester City |
| 28/10/2017 | 15:00 | Leicester City v Everton |
| 04/11/2017 | 15:00 | Stoke City v Leicester City |
| 18/11/2017 | 15:00 | Leicester City v Manchester City |
| 25/11/2017 | 15:00 | West Ham United v Leicester City |
| 28/11/2017 | 19:45 | Leicester City v Tottenham Hotspur |
| 02/12/2017 | 15:00 | Leicester City v Burnley |
| 09/12/2017 | 15:00 | Newcastle United v Leicester City |
| 13/12/2017 | 19:45 | Southampton v Leicester City |
| 16/12/2017 | 15:00 | Leicester City v Crystal Palace |
| 23/12/2017 | 15:00 | Leicester City v Manchester United |
| 26/12/2017 | 15:00 | Watford v Leicester City |
| 30/12/2017 | 15:00 | Liverpool v Leicester City |
| 01/01/2018 | 15:00 | Leicester City v Huddersfield Town |
| 13/01/2018 | 15:00 | Chelsea v Leicester City |
| 20/01/2018 | 15:00 | Leicester City v Watford |
| 31/01/2018 | 19:45 | Everton v Leicester City |
| 03/02/2018 | 15:00 | Leicester City v Swansea City |
| 10/02/2018 | 15:00 | Manchester City v Leicester City |
| 24/02/2018 | 15:00 | Leicester City v Stoke City |
| 03/03/2018 | 15:00 | Leicester City v Bournemouth |
| 10/03/2018 | 15:00 | West Bromwich Albion v Leicester City |
| 17/03/2018 | 15:00 | Leicester City v Arsenal |
| 31/03/2018 | 15:00 | Brighton and Hove Albion v Leicester City |
| 07/04/2018 | 15:00 | Leicester City v Newcastle United |
| 14/04/2018 | 15:00 | Burnley v Leicester City |
| 21/04/2018 | 15:00 | Leicester City v Southampton |
| 28/04/2018 | 15:00 | Crystal Palace v Leicester City |
| 05/05/2018 | 15:00 | Leicester City v West Ham United |
| 13/05/2018 | 15:00 | Tottenham Hotspur v Leicester City |