Asian Cup Qualification
'Lebanon are fasting too' - lack in fitness no excuse for Vingada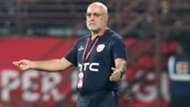 Although he agreed that lapse in concentration cost his side their 2019 Asian Cup qualification group match against Lebanon, Malaysia head coach Nelo Vingada rubbished the notion that the fasting month affected his men's fitness.
Many of the Malaysia players are currently fasting during the day, in observance of the Islamic month of Ramadan.
Speaking to the press after the 2-1 defeat at Larkin, he pointed out the fact that Lebanon; which is also a Muslim-majority country, also had players who are fasting.
"Of course, in the last 15 minutes our players were feeling it (fatigue). But Lebanon are also Muslims, I don't know how they did it.
"In the game, during both their goals, our team were organised and everyone was behind the ball, so it is not a question of fitness, it is because of concentration," he insisted.
However when asked by about his solution to the problem of concentration lapse, Vingada answered that he has no specific cure for the problem.
"This concentration problem sometimes (is caused by) cultural attitude. You told me it happens in Malaysian football. Two weeks ago Johor (Darul Ta'zim) lost in the last seconds (against Ceres-Negros FC in the AFC Cup)...
"There is no special formula, we have to create conditions where players can concentrate more.
"We talked about fitness, less fitness and preparations can also lead to reduced focus. When the players are tired they are distracted," explained the Asian Cup-winning coach.
But he was still happy with the performance in the match, his first game as the Harimau Malaya boss since his appointment last month, and sees a lot of potential in his charges.
"Football is made of these things, anything is possible. It was a hard and intense game. Of course I am not happy with the result, nobody can be, especially because we conceded (the match-deciding goal) in the last few seconds.
"But I'm happy with the way the players tried to fight and play... They gave everything they had, so they can hold their heads high. Even though we lost, we regained our worth and dignity for the national team.
"I believe we can do more, we can build from the defeat, and then gain qualification," vowed Vingada.