I-League
Kolkata Derby: Trevor Morgan: 'This could be East Bengal players' last chance to win I-League title'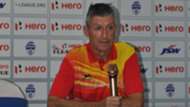 Trevor Morgan, the coach of East Bengal, has called on his players to exude pride when they don the Red and Gold jersey of East Bengal, stating sterny that his players must put the disappointintg performances in their last two outing aside and focus on beating their arch Kolkata rivals Mohun Bagan, in the I-League's Kolkata derby.
Speaking ahead of the famed clash of titans, the British coach expressed doubt on the participation of just a couple of players. "Everybody's trained well. We've had a tough week last week. We've got everyone back after the international duty and they are okay. Ivan, Plaza and Payne are all back on training. The only problem we have got is Robin Singh with a slight groin strain," he remarked. 
It must be noted here that U22 player Nikhil Poojary is suffering from a bout of viral fever and has been ruled out of the match. 
The former Kerala Blasters' assistant coach however remarked he'd been less than pleased with the performance of his players in their last two matches, which the Lal Holud have lost 2-1 to Chennai City and Chruchill Brothers respectively.  
"We have to get back to winning ways. Our last two outings have been poor. I haven't seen enough from the players. Once they pull on that shirt, I haven't seen enough pride in their performances. They know this could maybe their last opportunity at being title winners and that in itself should be motivation," warned Morgan. 
Asked if the Mariners, who'd beaten Bengaluru in their last I-League tie and Dhaka Abahani in the Asian Football Confederation's (AFC) Cup scoring six goals in total, held the upper hand heading into the tie, the 60 year-old opined, "The only advantage is that they are playing games and winning. That boosts confidence in itself. They have got a very settled system and good players playing in there but so have we. "
He further continued, "Every game is a challenge because of the expectations from the supporters. Everybody will be expecting us to get three points from it and it just so happens that it is Mohun Bagan in our next game." 
The most important question of the press conference revolved around the continued title aspirations of the Kolkata-based club, with them currently three points behind leaders Aizawl FC at the summit of the top division table.
"We have to believe that. But, it is not in our hands. If Aizawl win all of their games and we win all of ours, they'll win it. But we know winning this, we will pull clear of Mohun Bagan. But the players have got to show what playing for this club means. As I said, the last two games have been really disappointing. From some of our more senior players and foreign players, they now need to stand up and be counted," concluded Morgan, with a swish of impetus.