Manchester City
Klopp hails Guardiola: He's creating another team of beauty but I won't just stand and applaud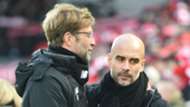 Liverpool manager Jurgen Klopp has paid tribute to the job that Pep Guardiola is doing at Manchester City but warned the Spaniard that his side are eager to hunt them down.
City are 16 points clear of second-placed Manchester United in the Premier League standings and apparently destined to win the title, and they will meet the Reds in Champions League quarter-final action on Wednesday.
While Klopp is full of admiration for the quality and style of his opponents, he has urged his side to cause an upset.
"Pep raises the bar, but I think rather than just stand and applaud, our job at Liverpool is to keep focused on what we are doing to give ourselves the chance to jump even higher," he told 'This Is Anfield' on the former Barcelona and Bayern Munich boss.
"I think it is now clear that he is making the same impact in England that he did in Spain and Germany, in terms of creating a team that is capable of beauty and dominance."
Klopp anticipates a thrilling European tie and has urged those fans who have a ticket for the 54,000 sell out to embrace the experience and generate an incredible atmosphere.
"I hope everyone involved can embrace the joy of being part of it, rather than allowing the intense focus to create pressure that numbs the excitement," he said.
"I am someone who loves football. I have since being a very small child and I don't envisage that changing until my last breath is taken. And what I love about football is that it offers all the most intense emotions and experiences for the period of time the game is being played and we all get to experience it together. It offers us collective joy, collective pain, collective tension and collective hope and belief.
"It brings a mass of people together, where in the split-second – the specific moment – we all experience and feel the same thing, at the same time. What I also love about football is nothing is decided before a ball is kicked and anything can happen."
Liverpool are the only side to have beaten City in the Premier League this season, winning a thriller 4-3 at Anfield in January, though they were beaten 5-0 at the Etihad in September.